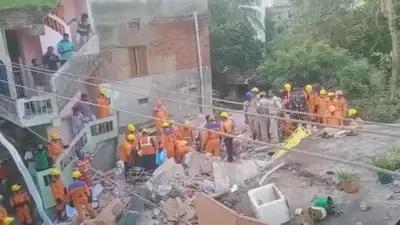 Three people were killed and five others injured when a three-storey building here came crashing down in the wee hours of Thursday.
Two children and a 27-year old man hailing from Bihar were killed in the incident.
According to locals, the building which is around two decades old, collapsed around 1.30 a.m. They said that just hours before the tragedy, the residents of the building had celebrated the birthday of the now-deceased Anjali.
Immediately after the building collapsed, locals rushed to the spot and managed to rescue five persons from the debris.
Victims who were buried alive have been identified as S. Durgaprasad (17), S. Anjali (10) and Chotu (27).
According to rescue officials, eight persons were present in the building at the time of the mishap. A NDRF, police and fire service personnel who rushed to the spot retrieved three bodies from the debris.
The injured have been rushed to KG Hospital where their condition is stated to be stable.
Search and rescue operations are underway.