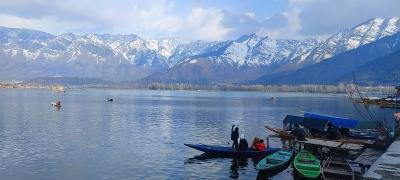 Weather was mainly dry in J&K during the last 24 hours. The MeT office said on Tuesday that rain/snow is likely during the next 48 hours.
"Presently, overcast in whole J&K. February 28 to March 2 light to moderate Snowfall/Rain (thunderstorm with rain in Jammu region) at most places of J&K with main activity on February 28th (evening) to March 1."
"Light rain/snowfall at isolated pockets may affect surface transportation over major passes like Srinagar-Jammu, Sinthan Top, Sadna Top etc. during March 1 to 2," an official of the MeT department said.
Srinagar had 4, Pahalgam minus 1.2 and Gulmarg minus 3 degrees Celsius as the minimum temperature today.
In Ladakh region, Drass town had minus 10.7, Kargil minus 5.2 and Leh minus 6.4 as the minimum temperature.
Jammu had 13.1, Katra 12.2, Batote 6, Banihal 2.8 and Bhaderwah 4.4 as the minimum temperature.