News
Ajay Banga, one of the illustrious alumni of Hyderabad Public School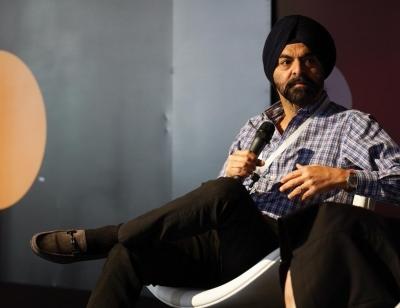 Ajaypal Singh Banga, who has been nominated by US President Joe Biden to lead the World Bank, is one of the illustrious alumni of Hyderabad Public School (HPS) who achieved top positions in their respective fields.
The former Mastercard Chief Executive had his schooling at HPS in the 1970s when his father Harbhajan Singh Banga, an army officer, was posted here.
Ajay Banga, an Indian-American, is currently serving as vice chairman at equity firm General Atlantic.
Ajay Banga is one of the distinguished alumni in the long list that includes Microsoft CEO Satya Nadella, India's former permanent representative at the United Nations Syed Akbaruddin, Andhra Pradesh Chief Minister Y.S. Jagan Mohan Reddy and well-known cricket commentator Harsha Bhogle.
The premier educational institution of the city has also churned out powerful corporate honchos like founder and CEO of Fairfax Financial Holding Prem Watsa, Adobe Systems CEO Shantanu Narayan, Satya Nadella besides Ajay Banga.
The HPS alumni rose to great heights of success and fame in different fields like business, politics, civil services, armed forces, sports and films.
Cobra beer founder and a member of UK Parliament Karan Billimoria, former Andhra Pradesh Chief Minister N. Kiran Kumar Reddy, All India Majlis-e-Ittehadul Muslimeen (AIMIM) chief and Hyderabad MP Asaduddin Owaisi, former cricketer Venkatpathy Raju and Telugu actors Akkineni Nagarjuna and Rana Daggubati are among the other alumni of the school which is celebrating its centenary this year.
"It could not have come at a better time," Gusti Noria, President, The Hyderabad Public School Society, told IANS while reacting to Banga's nomination for World Bank president.
"I am not entirely surprised, but this is something we are proud of. Good news keeps coming for HPS," he said.
"It has become the habit for HPS to churn out gems. There is something in the DNA of HPs, something in the air the students breathe in," he said.
He pointed out that Banga has joined the list of illustrious alumni who achieved top positions in their respective fields.
"HPS has produced leaders in different fields. This is because the sense of leadership is inculcated among children. The students develop leadership qualities from a young age and this helps them go places in whatever field they choose for themselves," he said.
Banga, who passed out of HPS in 1976, graduated with a Bachelor of Arts in economics from St. Stephen's College, Delhi University followed by PGP in Management from the Indian Institute of Management, Ahmedabad.
Starting his business career with Nestle in 1981, Banga became president and CEO of Mastercard in 2010. Last year, he became vice chairman at General Atlantic.
Inspired by the famous Eton College of Britain, VIIth Nizam Mir Osman Ali Khan, the last ruler of Hyderabad State founded HPS in 1923. It was exclusively meant for the sons of the nobility.
It was only in 1951 that the HPS opened its doors for public. Even after Independence and Hyderabad State's merger with Indian Union, the school had the elitist tag as children of only powerful politicians, wealthy businessmen, IAS and IPS officers and celebrities used to get admission.
The school started admitting girls in 1984. HPS, which started with six students in 1923, today has nearly 3,000 students. It is run by a society comprising eminent people from all walks of life.
Spread over 130 acres in Begumpet near the old airport in the heart of the city, HPS is said to have the largest campus than Vatican City. Its main building is a heritage structure while the campus has trekking routes, rock-formations, two cricket fields, athletic arena and several hockey, football grounds and a big library.