News
Competition Amendment Bill passed by LS amid pandemonium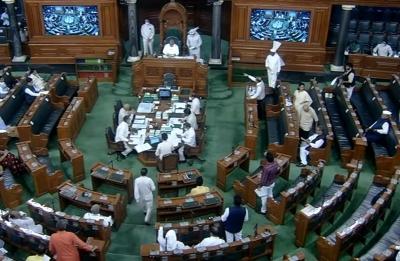 The Lok Sabha on Wednesday passed the Competition Amendment Bill 2022 without discussion amid vociferous protests by Congress-led opposition, which sought a probe in the Adani matter.
The bill proposes to expand the scope of cartel prosecution by bringing hybrid anti-competitive agreements (such as hub and spoke cartels) within its ambit to enable the Competition Commission of India to treat cartel facilitators (who actively participated) at par with the cartel participants.
It also proposes to further expand the scope of cartel prosecution to include non-participants who had 'intended to participate' in the cartel.
Another bill, the Biological Diversity Amendment Bill 2022 was referred to a joint committee of Parliament.
It is the second time that the legislation has been referred to a joint committee.
The bill aims to amend the Biological Diversity Act, 2002.
The new amendment though has excluded "codified traditional knowledge" practitioners from seeking prior permission or intimation of state diversity boards before accessing biological resources, apparently to encourage local economy based on traditional knowledge.
Apart from this, the Forest Conservation Amendment Bill 2023 was introduced in the house by environment minister Bhupender Yadav.
The bill seeks to amend the Forest (Conservation) Act, 1980 whose sole aim has been to protect the forests of the country and prevent their conversion into agricultural lands, or grazing lands, or building of business or residential units.
Under the Act, any proposal involving diversion of forest land of more than five hectares must be given by the central government, through an advisory committee led by DG Forests.
The new rules stipulate a two-stage approval process a" "in principal" and "final approval" to be granted by the central government for any application seeking diversion of the forest land for non-forestry uses, including any kind of development or construction.
The house was later adjourned till April 3 after laying of papers.
It approved leave from work for March 31 while March 30 is already a holiday on account of Ram Navami.
Earlier, as soon as the lower house reconvened at 12 p.m., Congress, Left and DMK members rushed to the well of the house, displaying placards and shouting slogans, seeking a probe in the Adani-Hindenburg issue.
Wearing black clothes, they showed posters and waved black scarves at the Chair, where Rama Devi sat as the presiding member.
Congress members showed banners which read "In false case, MP dis'qualified" in reference to Rahul Gandhi's expulsion from Lok Sabha.
As the house passed the Competition Amendment Bill amid pandemonium, opposition members tore papers and threw them at the Chair.
NCP MP Supriya Sule could be heard asking which bill was being passed in the house as there was total confusion.
UPA chairperson Sonia Gandhi was also present in the house.