News
Siddaramaiah, a successful socialist, all set for second stint as K'taka CM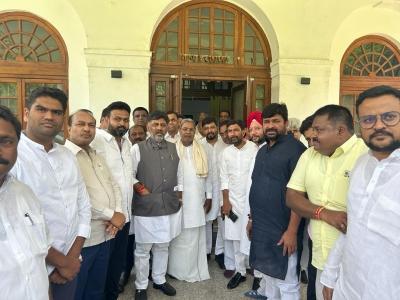 To clarify Siddaramaiah, a staunch socialist, is all set for the second stint as the 24th Chief Minister of Karnataka.
Hailing from a humble background, Siddaramaiah rose to the highest position by taking on the feudal and casteist forces.
He is the most popular mass leader and enjoys the support of the majority of MLAs in the Congress unit of Karnataka. Rahul Gandhi has stated that he personally likes and respects him.
Siddaramaiah is one of the few politicians of the country who takes on Prime Minister Narendra Modi, Amit Shah, RSS. His poignant attacks on saffron forces has raised his stature in Congress and masses.
Seventy-five-year-old Siddaramaiah was born on August 12, 1948 at Siddarama Hundi, a remote village in Varuna Hobli of Mysuru district. He hails from a poor farming Kuruba (shephard) community. After doing BSc in Yuvaraja College, he pursued LLB at Mysore University and practiced law for some time.
During his student days, he was an eloquent speaker and was known for his oratory skills. He was influenced by socialism advocated by Dr Ram Manohar Lohia.
In 1983, he entered the seventh Karnataka Legislative Assembly representing Bharatiya Lok Dal party from Chamundeshwari seat. Later, he joined the ruling Janata Dal party. He was the first President of Kannada Watchdog Committee to supervise the implementation of Kannada as an official language.
He strived for the enrichment of Kannada language and culture of the state. Later, he became Minister of State for Sericulture and was instrumental in the all round development of the Sericulture Department and Silk Industry in the state. He went on to become the voice of oppressed classes.
Siddaramaiah won the confidence of former PM H.D. Deve Gowda and came to limelight in state politics as one of the top leaders. The later broke away with Deve Gowda, challenged him and started the Ahinda (Alpasankhyak, backwards and Dalits movement.
He joined Congress in 2006 and became 22nd CM of K'taka from 2013 to 2018. The served as a MLA from Chamundeshwari constituency from 1983 to 1989, 1994 to 1999, 2004 to 2007. He was MLA from Varuna constituency from 2008 to 2013 and 2013 to 2018 and from Badami constituency from 2018 to 2023.
Before serving as the Chief Minister of Karnataka, he also served as the Deputy Chief Minister from 1996 to 1999 in the late J.H. Patel led Janata Dal government.
He was also in the Deputy Chief Minister post from 2004 to 2005 in the Dharam Singh led Congress-JD(S) coalition government.
Siddaramaiah worked as the leader of the opposition from 2009 to 2013 and 2019 to 2023.
Meanwhile he worked as the minister for Animal Husbandry and Veterinary Services. Siddaramaiah held Finance and Excise portfolios as DCM, filled coffers of the state government, cleared debts of the previous government. The state never went for an overdraft during his tenure. In short the credit rating company had rated Karnataka as a state with a sound financial position.