Politics
TDP leader Lokesh embarks on 4,000 km-long padyatra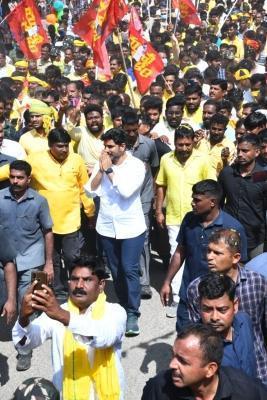 Telugu Desam Party (TDP) general secretary Nara Lokesh on Friday embarked on a 4,000 km-long state-wide padyatra, which is expected to gear up the opposition party for next year's Assembly elections.
The young leader began the foot march from Kuppam constituency represented by party president and his father N. Chandrababu Naidu, to a massive public response and amid enthusiasm by party cadres.
Thousands of TDP workers and supporters joined Lokesh in the padyatra titled 'Yuva Galam' (youth's voice).
The walkathon will cover 120 Assembly constituencies over the next 400 days across the state.
Lokesh launched the padyatra at 11.03 a.m. after special pooja Varadaraja Swamy temple. He also visited Mecca Masjid at Lakshmipuram and later Hebrass House of Worship Church at Bapunagar where he offered prayers and took the blessings of the community elders.
Lokesh's father-in-law, popular actor and TDP MLA N. Balakrishna and cousin actor Nandamuri Taraka Ratna also participated in the pooja. Later, when the padyatra reached a mosque, Taraka Ratna fell down and fainted due to a stampede-like situation.
The actor was shifted to a private hospital. Balakrishna also rushed to the hospital.
The president of the state unit of the TDP, Atchen Naidu, party politburo members, and thousands of party cadres walked along Lokesh.
The main opposition party said that the sole aim of the padyatra is to end the "atrocious" rule of Chief Minister Y. S. Jagan Mohan Reddy. It is confident that the march will create a history in the state.
The party functionaries showered flowers on Lokesh wishing him all the best in his endeavour.
Women activists offered 'aartis' to give a grand welcome to the party general secretary, and the locals of Kuppam raised slogans like 'Chandranna Bidda (Son of Mr Chandrababu Naidu) zindabad'.
The TDP leader will address a public meeting later in the day. Police have made elaborate security arrangements for the walkathon.
Chittoor district police has granted conditional permission for the march. The TDP said that the conditions imposed for Lokesh's padyatra reflect Jagan Mohan Reddy-led government's sense of insecurity.
The TDP leaders alleged that the government is trying to create hurdles for the padyatra.