Technology
'GROW with SAP' to Empower mid-size Companies in India's 'Techade'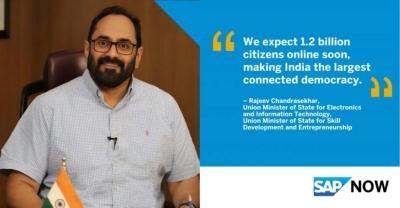 Enterprise application software provider SAP on Thursday announced 'GROW with SAP', a new offering to help mid-size customers in India adopt Cloud Enterprise Resource Planning (ERP) that enables speed, predictability, and continuous innovation.
The 'GROW with SAP' offering brings together SAP S/4HANA Cloud, public edition, with accelerated adoption services, a global community of experts and free learning resources, helping customers go live in few weeks.
The company said during its 'SAP Now' event here that as India accelerates its journey to become the world's third largest economy, midsize companies are a critical enabler of the country's digital transformation that serves everyone by generating employment and contributing to the GDP.
"Our early investments in digital public infrastructure and our ease of doing business policies have empowered our startup and innovation ecosystem, catalysing India's Techade goals," said Rajeev Chandrashekar, Union Minister of State for Electronics and IT, while addressing India Inc.
"In the coming years, you will also see India as an important player in the electronics and semiconductor GVCs as well as realise our sustainability vision in the years to come," the minister added.
'GROW with SAP' also includes 'SAP Business Technology Platform', so customers can define their own processes in a cloud-native way using SAP Build.
"Cloud technology is revolutionizing ERP. Midsized companies today are looking for a reliable technology platform that'll help them scale," said Kulmeet Bawa, President and Managing Director, SAP Indian Subcontinent.
With 80 per cent of SAP's customers in India coming from midsize organisations, we have a long history of understanding their requirements.
"GROW with SAP is our commitment to deliver an offering tailored for this market segment, empowering them with agility and predictability, to help drive business results," Bawa added.
According to IDC research, many midsize businesses find themselves growing rapidly and need their technology to grow with their business as they encounter the same issues related to global complexity as larger enterprise businesses.