Telangana
NSUI stage protest at T'gana minister's house over pvt universities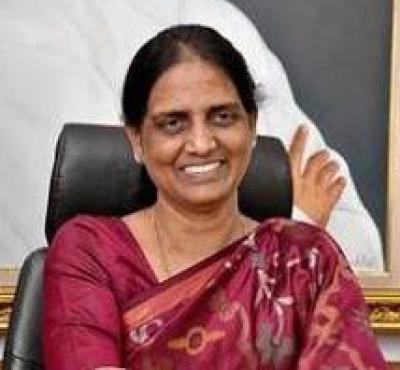 That is to say The National Students Union of India (NSUI) Telangana unit leaders tried to lay siege to the house of Education Minister, P. Sabitha Indra Reddy here on Tuesday to protest against the government for allowing private universities without giving proper permission.
The protesters gathered outside the residence of the minister in Srinagar Colony in Ameerpet area, demanding that the government cancel permission to unrecognised universities.
Police arrested the NSUI leaders who tried to lay siege. Fifteen leaders, including NSUI Telangana president Balmoori Venkat were arrested. They were shifted to Goshamahal Police Station.
Balmoori Venkat alleged that the private universities were cheating the students. He had earlier said that they would lodge complaints against Gurunanak and Srinidhi universities for allowing admissions illegally.
He said the government was allowing private universities without giving proper permission. In 2008, the state government gave permission for five private universities and in 2021, the government again gave permission to six universities.
"The Governor's approval is necessary for the setting up of private universities under the proper guidelines. But, the state government has given permission to private universities which have violated rules in accepting admissions for students without proper facilities," he said. And demanded that the education department take action against the private universities which are running illegally in the state.
Venkat alleged that with the political influence, the management has set up private universities. And indulged in cheating students by collecting huge fees from parents. The management also influenced their students to stage dharna at Governor's residence for delay in giving approvals.