Business
Sitharaman holds virtual meeting with IMF chief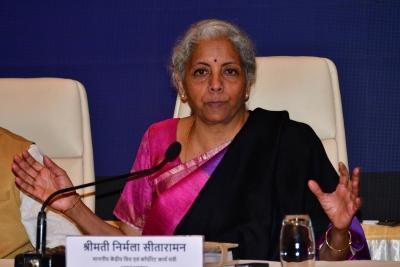 During a virtual meeting with IMF chief Kristalina Georgieva, Union Finance Minister Nirmala Sitharaman on Thursday said that debt discussions will be at the forefront during the forthcoming meeting of the G20 Finance Ministers Central Bank Governors (FMCBGs) slated to be held in Bengaluru later this month.
India will continue to support the ongoing efforts for orderly and timely implementation of the common framework, the Minister said during the meeting.
Along with addressing debt vulnerabilities, Sitharaman and Georgieva also discussed the role of IMF and other relevant international organisations to develop a globally coordinated approach on the regulation of crypto assets.
Georgieva congratulated India on its strong economic performance in challenging global times as well as its role at the forefront of digitalisation of the economy, especially in the area of digital payments.
The finance minister thanked the IMF for the support that it had been providing to the G20 Indian Presidency on various work streams under the G20 Finance Track.
Both the leaders also expressed solidarity with those affected by the devastating earthquakes in Turkey and Syria.
Sitharaman conveyed India's immediate support to the natural disaster through deployment of NDRF and medical teams under Operation Dost.
Georgieva deeply appreciated India's contribution of $50 million for South Asia Regional Training and Technical Assistance Centre (SARTTAC), which is a partnership between IMF and India.
This will further strengthen India and IMF's role in building capacity in the South Asia Region, she said.
Sitharaman told Georgieva that India will continue to play its leadership role during the G20 Presidency to strengthen multilateralism and global governance for a peaceful, sustainable, and prosperous world for all.
During the discussion via video conference, both the leaders recognised that the voices of the most vulnerable and under-represented need to be heard through the leadership of the G20 nations.
Sitharaman stressed the need to ensure food and energy security for all and asked the IMF for support to the Indian Presidency in the form of detailed technical analysis to develop an evidence-based policy guidance on the issue.