Featured News
Trending
JSP, TDP to have poll alliance, says Pawan Kalyan after meeting Chandrababu Naidu in jail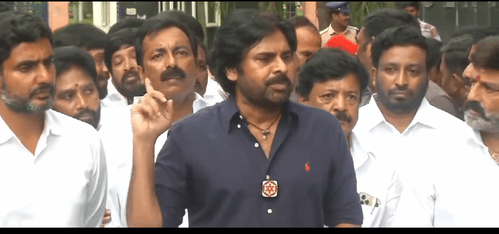 The Jana Sena Party (JSP) will contest the coming elections in Andhra Pradesh in alliance with the Telugu Desam Party (TDP), announced JSP leader and actor Pawan Kalyan on Thursday.
Stating that Andhra Pradesh can't afford YSR Congress Party (YSRCP) rule , he hoped that BJP will also join hands with them to avoid split of votes to end the misrule of Y. S. Jagan Mohan Reddy.
Pawan Kalyan made the announcement alliance after meeting TDP supremo and former chief minister N. Chandrababu Naidu in Rajahmundry Central Jail.
Accompanied by TDP MLA and actor N. Balakrishna and TDP general secretary and Naidu's son Nara Lokesh, Pawan Kalyan met Naidu, who is in judicial custody in alleged Skill Development Corporation scam.
The JSP leader claimed that his meeting with Naidu in jail was an important meeting for the state. He said he conveyed his decision of contesting the coming elections in alliance with the TDP to Naidu. Pawan, whose party is part of the NDA, hoped that BJP will take a positive decision.
"This decision is not for our future but it is for the future of the entire state. If we fight the elections separately, this anarchic rule may go on for another one or two decades," he said while underlining the need for unitedly taking on the YSR Congress Party.
When asked about the number of seats JSP will contest, he said all this would be decided later. Both JSP and TDP alliance will form a joint committee to decide on the programmes to be taken up together.
Terming Naidu's arrest as unlawful, Pawan Kalyan said he met him to express his solidarity with him. He alleged that Naidu was implicated in a false case and sent to remand as part of the lawless rule of Jagan Mohan Reddy-led government.
"It 's purely a political vendetta. It's very unfortunate that a leader who created Cyberabad city has been sent to jail," said the actor and reminded Jagan that there are several cases of corruption against him.
He told Jagan Mohan Reddy that his government has only six months left. He remarked that Jagan should decide if he wants to mend his ways or wants war. "If he wants war, we are ready for it."
He warned the YSRCP leaders that those looting the public money and indulging in illegal sand mining and liquor sale will not be spared.
The JSP leader said they would meet the Prime Minister, Union Home Minister and Governor. To apprise them of the situation in Andhra Pradesh.
"If there is turmoil in Andhra Pradesh, the entire south will be in turmoil. As key highways connecting the region pass through the state, the situation will have an impact on the entire south India," he said.
Pawan Kalyan said he may have differences with Naidu in terms of policies, but he never questioned his integrity and doubted his ability. He recalled that he supported Prime Minister Narendra Modi and Chandrababu Naidu. As he wanted strong and good leaders for the country and the state.
The JSP leader said he differed with Naidu over the issue of. Special Category Status for the state but never had any personal differences.
He called for additional security for the TDP leader as he is Z plus category protectee. He also sought better facilities in jail considering his age and his status as a former chief minister.
Pawan Kalyan said they will take up the issue of Naidu's security with the Prime Minister and Union Home Minister.
Naidu was arrested by the Crime Investigation Department (CID) in Nandyal on September 9. The next day, a Vijayawada court had sent him to judicial custody for 14 days. The TDP supremo was subsequently shifted to Rajahmundry Jail.