Featured News
Trouble for AP Govt in store? Navy Ship to be named 'AP Executive Capital'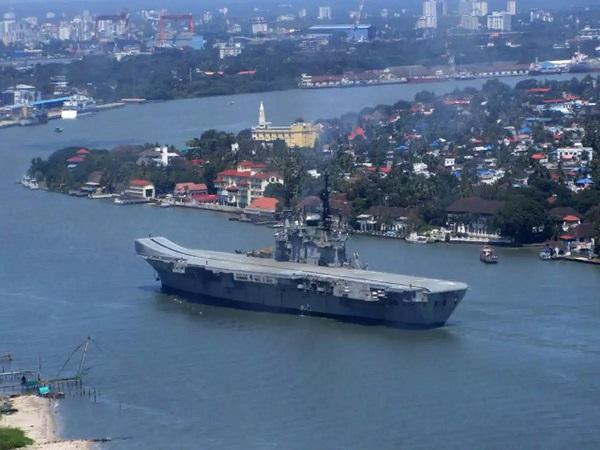 The Eastern Naval Command (ENC) Flag officer commanding-in-chief, Vice Admiral Ajendra Bahadur Singh met Andhra Pradesh Chief Minister Y.S. Jaganmohan Reddy and extended an invitation to be the chief guest for the Navy Day Celebrations in Visakhapatnam on 4 December 2021.
Following this, Srihari Pudi, Chief Public Relations Officer to Chief Minister of Andhra Pradesh, shared that, "Flag Officer Commanding-in-Chief Eastern Naval Command Vice Admiral Ajendra Bahadur Singh AVSM, VSM, has met #ChiefMinister @ysjagan and invited him to attend Navy Day celebrations in Visakhapatnam on December 4."
On the occasion, the ENC Chief gifted an idol of Lord Sri Venkateswara to Mr Reddy. During the meeting, Mr. Singh further briefed the AP CM on the forthcoming commissioning of the lead ship of Project 15B stealth guided-missile destroyer, INS Visakhapatnam, at Mumbai, named after the executive capital city of AP. The Flag officer also shed light on the progress of preparations in line with the upcoming President Fleet Review and MILAN 2022 which are scheduled to be held in February 2022.
This information on naming the ship after AP's executive capital has raised eyebrows in the political circles of the state. There are several doubts cast as to whether the Government of India (Centre) has accepted Visakhapatnam as the executive capital of Andhra Pradesh. "If yes, then where is the notification? There is so far no comment on three capitals from the Centre. It is silent and is neither saying a yes or a no on the issue of trifurcation. What does one understand from these confused signals?" asked a political analyst.
Additionally, this controversy has now got political parties again raking up the issue of how Andhra Pradesh still exists without a capital. The BJP is now in a confused state, trying to save its face and so is Jana Sena. Interestingly, Telugu Desam Party is the only party demanding a clarification from the YSRCP government on the issue. How this will end up also putting the Indian Navy in a tight spot is yet to be seen.
Note: Navy day is celebrated on 4 December every year to mark the decisive victory achieved by India in 1971 which was made possible by the daring missile attack on Karachi by Indian Naval Ships. The event highlights the multi-dimensional warfare capability of the Indian Navy in protecting the vast maritime borders and offshore assets of our country. All Flag Officers of the Command and a large number of officers, sailors, and Defence civilian employees of the Navy would be present on the occasion.