Business
FPIs have been sellers in 6 trading sessions at Rs 7,990 cr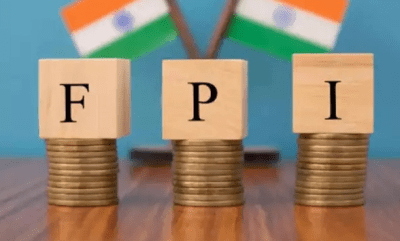 FPIs have been continuous sellers in the last six trading sessions with a cumulative sell figure of Rs 7,990 crore, says V.K. Vijayakumar, Chief Investment Strategist at Geojit Financial Services.
In the two-day correction in the market, Nifty has lost 350 points. More importantly, higher corrections have happened in the large-caps with the broader market holding on, he said.
With the 10-year US bond yield spiking to 4.16 per cent, the FPIs may continue to sell or at least refrain from buying aggressively. The positive factor is that the DIIs are buying aggressively more than compensating for FPI selling, he said.
portfolio investment in general—an investor does not actively manage the investments or the companies that issue the investments. They do not have direct control over the assets or the businesses.
In contrast, foreign direct investment (FDI) lets an investor purchase a direct business interest in a foreign country. For example, say an investor based in New York City purchases a warehouse in Berlin to lease to a German company that needs space to expand its operations. The investor's goal is to create a long-term income stream while helping the company increase its profits.
During the last six sessions, DIIs have bought stocks for around Rs 9,000 crore.
Investors may take cues from Warren Buffet's response to the Fitch downgrade that, " There are some things that people should not be worried. This is one".
This is the time to nibble at high quality large-caps, particularly trading in banking, capital goods, construction and autos, he added.
BSE Sensex is up 252 points in Friday trade at 65493 points. IT stocks are leading the gains with Wipro up more than 2 per cent, Tech Mahindra, HCL Tech, TCS are all up more than 1 per cent.