Business
Global tenders invited for Hyderabad Airport Metro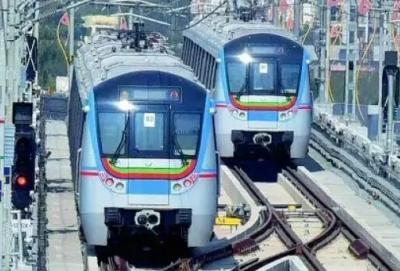 To clarify Global tenders have been invited for selection of the Engineering, Procurement and Construction (EPC) contractor for the Hyderabad Airport Metro project.
Hyderabad Airport Metro Ltd (HAML) Managing Director N.V.S. Reddy said on Tuesday that this is a comprehensive open Global tenders invited. With an estimated contract value of Rs 5,688 crore for design and construction of all the civil structures. Including elevated viaduct, underground structures, stations, track works, electrical and mechanical works. Supply and commissioning of rolling stock (train sets), electric traction and power supply, signaling, telecommunications. And train control systems, automatic fare collection (AFC) gates etc.
Reddy has stated that mostof the preliminary works.Like survey, peg marking, alignment fixation etc., have been completed and soil testing is in full swing.
However he announced that as per theupdated surveyand alignment fixation, now the 31 km corridor between Raidurg metro station and Airport terminal station. Will have an elevated portion of 29.3 km and underground portion of 1.7 km.
It will have 9 stations including one underground metro station adjacent to the airport terminal.
In view of the large scale development of commercial and residential.Skyscrapers along the airport metro line and Chief Minister K. Chandrasekhar Rao's vision of facilitating cost-effective accommodation. On the outskirts and reverse commute to work places. the city by Airport Metro line, provision has also been kept for construction of four additional stations in future.
The last date for bid submission is July 5 this year and the voluminous. Tender documents will be uploaded on Telangana government's e-portal.