Business
Paytm Payments Bank goes live with UPI LITE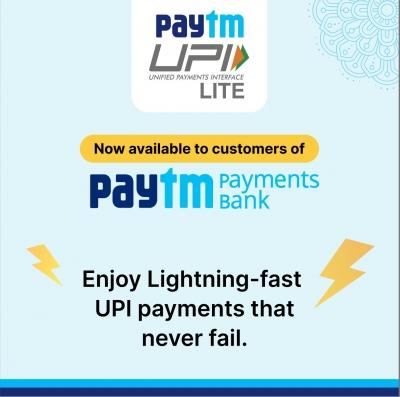 Paytm Payments Bank Limited (PPBL) has gone live with UPI LITE, a feature enabled by the National Payments Corporation of India (NPCI) for multiple small-value UPI transactions, thus empowering its users with lightning fast UPI payments, the company said on Thursday.
With this, users can activate their UPI LITE accounts linked to their Paytm Payments Bank savings accounts for hassle-free transactions.
For payments of up to Rs 200, UPI Lite eliminates the need of UPI PIN. UPI LITE is exclusively available on Paytm app, the company said.
"Having been the first to bring UPI LITE to users, we are now excited to enable our Bank account holders to link their accounts with UPI LITE. We continue to take our innovative payments offerings to the next level, driving financial inclusion in the country," a Paytm Payments Bank spokesperson said.
A maximum of Rs 2,000 can be added twice in a day to UPI LITE, making the cumulative daily usage up to Rs 4,000.
Further, payments made using UPI LITE de-clutters the passbook of PPB users.
These small-value transactions would now show in the Paytm balance and history section.
According to the NPCI, users will receive a daily transaction history of all the payments made through UPI LITE as an SMS from their banks.
Paytm Payments Bank remained the largest UPI beneficiary bank for 20 months in a row with over 1,765.87 million transactions in January 2023, ahead of all major banks in the country.
With 389.61 million registered transactions, the Bank is one of the top 10 remitter banks for UPI transactions, according to NPCI's latest report.
In January, PPBL processed 58.34 million transactions as an Issuer Bank and 47.71 million transactions as an Acquirer Bank.