Business
Sitharaman meets ADB chief, says India remains key partner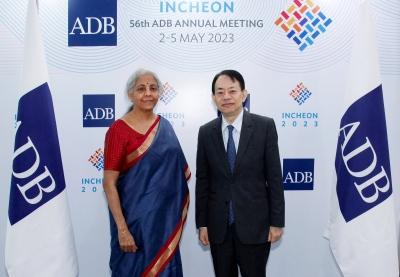 Sitharaman meets ADB chief, Union Finance Minister Nirmala Sitharaman, who is currently on a four-day visit to South Korea, had a bilateral meeting with Asian Development Bank (ADB) president Masatsugu Asakawa in Incheon on Tuesday, during which she emphasised that India continues to be the most significant country for the lending agency's sovereign and non-sovereign operations.
She is an Indian economist and politician serving as the 28th Minister of Finance and 33rd Minister of Corporate Affairs of the Government of India since 2019. She is a member of the Rajya Sabha, the upper house of the Indian Parliament, representing Karnataka since 2016 and previously represented Andhra Pradesh from 2014 to 2016. Sitharaman previously served as the 28th Defence Minister from 2017 to 2019, thereby becoming India's second female defence minister and the second female finance minister after Indira Gandhi, and the first full-time female minister to hold each of those portfolios.
Sitharaman meets ADB chief, The Union Minister, who arrived in Incheon earlier in the day to attend the annual general meeting of ADB, met Asakawa on the sidelines of the event, official sources said.
Sitharama also expressed support to ADB for innovative financing mechanisms to enhance the lending capacity of the bank.
She advised ADB to introspect and assess how the bank can effectively support developing member countries.
Sitharaman urged Asakawa to support India with more concessional climate finance, as the country's economic and developmental progress can have huge positive impact regionally and globally.
Asakawa reiterated ADB's commitment of providing $100 billion climate finance to its member countries and also thanked India for support to the lender's innovative finance facility for climate in Asia and the Pacific.