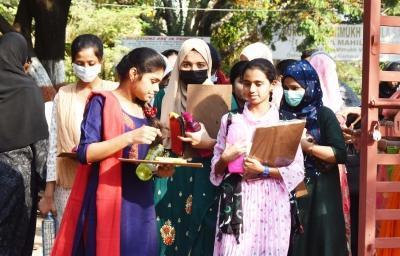 To clarify that Telangana Board of Intermediate Education on Tuesday declared results of intermediate first and second year (11th and 12th class) exams.
The Board announced that the overall pass percentage was above 55. It said 63.85 per cent students cleared the first year exam while pass percentage for the second year is 67.26 per cent.
Education minister P. Sabitha Indra Reddy announced the results. In short a total of 9,48,153 students had appeared in the exams conducted in March and April.
The authorities had set up 1,473 exam centres and deployed 26,000 invigilators. The minister revealed that services of 13,000 evaluators were used.
In Telangana out of 4,33,083 students who appeared in the intermediate first year exams, 2,72,208 students passed. Girls outshine boys with 68.68 pass percentage. The pass percentage of boys was 54.66.
For the second year exam, 3,80,920 students had appeared and out of them 2,56,241 cleared the exam. According to the Board, 71.57 per cent girls passed the exam. The pass percentage for boys was 56.60.
The minister said Medchal Malkajgiri district achieved the best result in the first year, while Mulugu district was passed in the second year.
Telangana intermediate exams
Meanwhile applications can be made from May 10 to May 16 for recounting and revaluation. In conclusion Sabitha Indra Reddy announced that advanced supplementary exams will be conducted from June 4.
The minister appealed to students and parents not to get worried. She said that to ease pressure on students, the government has done away with the system under which intermediate marks were given weightage in EAMCET, the annual entrance test conducted for admissions to engineering, agriculture and other professional courses.
While government junior colleges had a poor pass percentage at 54, Telangana State Residential Junior Colleges (TSRJC) recorded 92 per cent pass percentage. Social welfare junior colleges, BC welfare junior colleges, model schools junior colleges, KGBV junior colleges, KGBV junior colleges and Telangana minorities residential junior colleges performed well.
The Board has set up a separate cell to help students overcome any stress, strain and anxiety. This cell called Tele Mental Health Assistance and Networking across the State (Tele Manas) works round the clock. The services of psychologists and psychiatrists for counseling and guidance are available. Students can contact toll free number 14416.