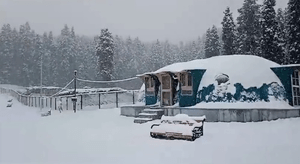 Fresh snowfall in the hills and rains in the plains of J&K on Friday closed mountain passes and brought down day temperatures.
The snowfall in the Zojila Pass resulted in closure of the Srinagar-Leh highway while the Mughal Road, Razdan Pass, Sinthan top and other mountain passes were also closed.
Ski resort of Gulmarg and Sonamarg hill station received fresh snowfall on Friday.
Rain lashed the Valley and most parts of the Jammu division.
The Meteorological (MeT) office has forecast improvement in weather from late evening Friday.
"Weather will be generally dry from November 11 to 17," an official of the MeT department said.
Day temperatures across J&K took a steep drop because of the snowfall in the mountains.