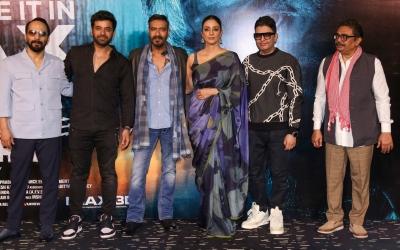 Bollywood star and filmmaker Ajay Devgn finally gave a glimpse of the action-packed life of 'Bholaa' where he's ready to do anything for a glimmer of his on-screen daughter.
An IMAX theatre was brimming with journalists from all over the country as Ajay unveiled the over a two-minute long trailer in 3D in a Mumbai.
Not just journalists, fans too came in to catch a glimpse of their favourite actor. A fan even showcased a tattoo dedicated to Ajay.
The trailer begins with Ajay being tagged as a "chattan". He is seen doing death defining stunts and high on action fight scenes.
What made the audience whistle is the dialogue: "Yeh zameen banjar hoker bhi buzdil paida nahi karti."
It also gives a glimpse of villains Deepak Dobriyal and Vineet Kumar among any others.
Ajay is also seen having a fight sequence using a Trishul, a weapon used by lord Shiva.
"This is the first trailer launch which happened in 3D. We had to do a lot running around. I think it's different in 3D," Ajay said during the launch.
How difficult was it for Ajay to convince Tabu to work with him?
"It's not difficult at all. He just has to call and I'll do it. I entered this film with my eyes closed. I just knew there was a lot of action. But I knew I can trust him and nothing will happen to me," Tabu said.
On being called the "mass maharaja" by his fans, Ajay thanked for all the love, and called himself as a "simple actor".
'Bholaa' marks Ajay's fourth directorial film after 'U, Me aur Hum' in 2008, 'Shivaay' in 2016, and 'Runway 34' in 2022.
The film also stars Tabu as the female protagonist and is all set to hit the theatres on March 30, 2023.