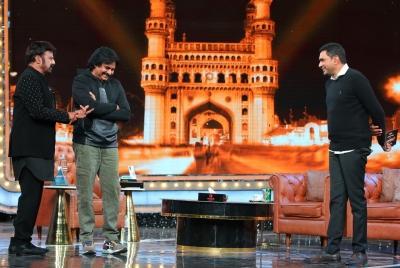 "My struggles with depression were overwhelming, but I fought through it," says Tollywood's 'Power Star' Pawan Kalyan in the upcoming episode of 'Unstoppable 2 with NBK.
The highly anticipated finale is set to premiere on February 10 on the Telugu OTT platform aha. The first part of the episode had set a record of sorts with the highest number of app downloads in the first five minutes of its launch.
Continuing his candid conversation with Nandamuri Balakrishna, the star better known as NBK, Pawan Kalyan looked back at his battles with depression, including a moment in his youth when he considered taking his own life.
"I have asthma and felt isolated due to frequent hospitalisation. Therefore, I'm not much of a social person. At 17, the pressure of exams only added to my depression, and I remember planning to take my own life using the licensed revolver of my eldest brother (Chiranjeevi) when he was not in the house," Pawan Kalyan recalled.
Timely intervention from his elder brother (Nagababu) and sister-in-law (Surekha) saved him in the nick of time.
"My brother (Chiranjeevi) told me, 'Just live for me. If you don't do anything, that's fine. But please live.' From then on, I taught myself and found solace in reading books, practising Carnatic music, martial arts, and other pursuits," Pawan Kalyan said.
Today, Pawan Kalyan is a source of inspiration for many, having channeled his struggles into a successful acting and political career. "Don't compare yourself to others. Compete only with yourself," Pawan Kalyan said, adding: "Knowledge and success come with hard work, and what we endure today will shape our tomorrow. Be the best version of yourself."