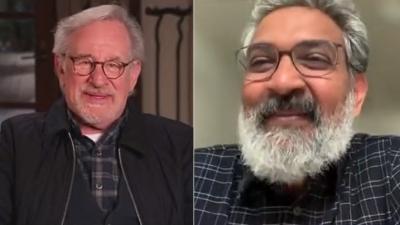 It's safe to say Steven Spielberg is an 'RRR' fan, reports Naman Ramachandran of 'Variety' after watching a Zoom conversation between the auteur and S.S. Rajamouli, the helmer of the film that has got the world dancing to the beat of 'Naatu Naatu'.
Spielberg, whose latest, 'The Fabelmans', is in the race for seven Oscars, praised 'RRR' as "eye candy" and promised to return to India, where he last filmed 'Close Encounters of the Third Kind' in 1976, for one of his upcoming projects.
The two men, who had a brief encounter at a Golden Globes cocktail party in Los Angeles in January, caught up over a Zoom call on Thursday (U.S. Pacific Time), according to 'Variety'. The conversation was facilitated by Reliance Entertainment, a long-term partner of Spielberg's Amblin Entertainment, which co-produced and released 'The Fabelmans' theatrically across India on February 10.
"I thought your movie was outstanding … it was just amazing," Spielberg said. "I couldn't believe my eyes — it was like eye candy … it was extraordinary to look at and experience."
Rajamouli, according to 'Variety, was elated with the praise, saying: "I can almost get up from the chair and do a dance — it means a lot to me."
Spielberg also praised the performances of 'RRR' leads Ram Charan, NTR Jr, Alia Bhatt and antagonist Alison Doody, who played the British governor's evil wife, and had acted in his film 'Indiana Jones and the Last Crusade' (1989).
Rajamouli, who is a massive fan of Spielberg in general and 'The Fabelmans' in particular, asked Spielberg a series of questions about the motivations behind making the film and about portraying a version of his own family on screen.
"As I was watching the film, initially [it] felt like 'Oh my God', he's picturising his own mom as not so good. I was empathising with the father," Rajamouli said, according to 'Variety'. "But as we progress, we understand the difficulty of the situation — no one is bad. It is not about a person being good or bad. It's about following your heart and following your duty."
Spielberg responded by noting: "There are no villains in the story. It's a story about love. It's a story about a young boy, much like myself, named Sammy Fabelman, who falls in love with movie cameras and making movies with his neighbourhood friends, which eventually is going to lead him to a career."
He added: "And it's about following your heart and not sacrificing yourself and your own happiness and your own future, to make others around you safe and comfortable."
Talking about his mother, Spielberg said, according to Variety: "My mom took life into her own hands. And she had a huge, beautiful personality. But she was always very honest about what she needed, and what she wanted from this life. And she took it for herself. But she still brought all of us along with her. We never felt abandoned by the choices that she was making."
Spielberg, adds 'Variety', stressed the importance of the family unit and explained how he passed on the first Harry Potter film in order to spend time with them.
To which Rajamouli said: "Luckily for me, I keep my whole family in the film business, my wife, my son, my brother, my brother's wife — everyone is with me making movies, so I don't miss my family."
Spielberg did not rule out a sequel to 'The Fabelmans', but said there were no immediate plans for it.