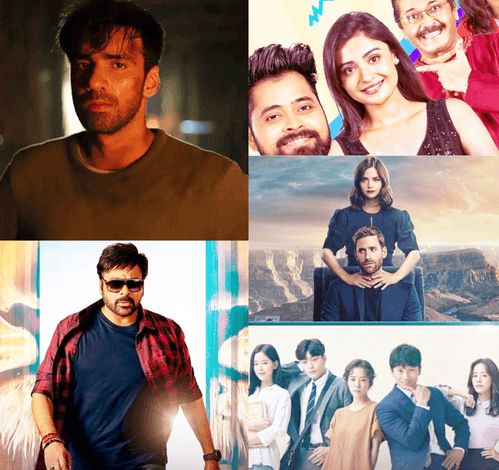 As Ganpati Bappa blesses everyone with his arrival in a few days, OTT platforms have lined up an exciting array of shows, and movies for the viewer's enjoyment in the upcoming week.
From crime drama series 'Kaala' to Chiranjeevi's 'Bhola Shankar', this week s entertainment offerings. Are set to delight you like none other, all from the comfort of your home. With delicious Modaks to indulge in, prepare yourself for a diverse range of captivating content that's ready and waiting.
Here's a list of five titles on various OTT platforms that have caught the attention of Thebetterandhra.com this week. So, gear up for a week filled with non-stop enjoyment and entertainment that is sure to capture your interest and keep you thoroughly engaged.

'Kaala'
The crime series shows the workings of the parallel economy of black money, as white money. Is turned to black through the process of reverse hawala. It shows the intense pursuit of IB Officer Ritwik (played by Avinash Tiwary) to dismantle a reverse hawala operation from its very core. The show also stars Hiten Tejwani, Rohan Vinod Mehra, Nivetha Pethuraj, Taher Shabbir, Jitin Gulati, and Elisha Mayor. Produced by Bhushan Kumar, Krishan Kumar and Bejoy Nambiar, it is set to stream from September 15 on Disney + Hotstar.

'Bhola Shankar'
It centres on the journey of Shankar, who arrives in Kolkata with his sister, Mahalakshmi, with the goal of securing her admission to an arts college. However, his life takes an unexpected turn when he crosses paths with the fierce lawyer Lasya and a ruthless gangster. This film is the official adaptation of the 2015 Tamil movie 'Vedalam'. Leading the cast is Chiranjeevi in the titular role, supported by a talented ensemble including Tamannaah Bhatia, Keerthy Suresh, and Sushanth in pivotal roles. It will stream in Telugu, Tamil, Malayalam, Kannada and Hindi, on Netflix from September 15.

'Wilderness'
It is an upcoming British thriller television series produced for Prime Video based on the novel of the same name by B.E. Jones. It stars Jenna Coleman as Liv, and Oliver Jackson-Cohen as Will. A dream holiday becomes a nightmare for a young British couple who seemingly have it all, as heartbreak turns into fury and revenge. It is set to premiere on September 15 on Prime Video.
 
'What The Fafda'
This situational anthology comedy series introduces an unprecedented format. In Gujarati comedy, with each episode offering a humorous perspective on the lives of quirky professionals. We often encounter in our daily lives, offering a unique glimpse into their world. Every episode promises to whip up hilarious situations, unveiling their eccentricities and delightfully unconventional working styles. Viewers can expect relatable yet riotous scenarios that will compel them to say 'What The Fafda' towards the end of each episode.
The series boasts an ensemble cast of over 40 talented artistes, including Pratik Gandhi, Sanjay Goradia, Tiku Talsania, Shraddha Dangar, Niilam Panchal, Ishani Dave, Kushal Mistry, Jayesh More, Jhinal Belani, Manan Dave, Bhamini Oza, Prem Gadhvi, Parth Parmar, Dhruvin Kumar, Viraj Ghelani, and other incredible talents. It will stream on ShemarooMe on September 14.

'Familiar Wife'
The romantic fantasy K-Drama, tells the tale of a married couple who find themselves. Living entirely different lives due to a magical twist of fate triggered by an unexpected incident. Cha Joo-hyuk has been married to Seo Woo-Jin for five years when a strange event occurs, leading Joo-hyuk to. Make an unforeseen decision that profoundly alters his life and the lives of those around him.
In an instant, his life with Woo-Jin and his close friend, Yoon Joong-hoo, vanishes, and he finds himself in a radically different existence. How will his first love, Lee Hye-won, fit into this new life? And is it possible to reclaim his old life? It will stream in Hindi on MX Player from September 20.