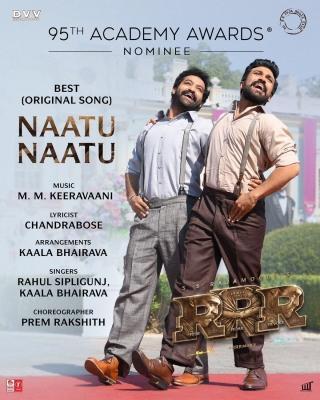 Oscar-nominated Tollywood composer M.M. Keeravani can now put on his dancing shoes after securing a spot in Best Original Song for his popular song 'Naatu Naatu' from the historical action drama 'RRR', writes Deadline.
In speaking with Deadline on Tuesday about his nomination, Keeravani revealed that he was working — and definitely not dancing — at his recording studio on an upcoming film when he asked the director to put a momentary pause on their activities. And it was for good reason.
Keeravani's Best Original Song nomination makes history at the 95th Academy Awards for being the first song from an Indian film to land in that category. (Indian songwriter-composer A.R. Rahman's 2009 Oscar win for the anthemic 'Jai Ho' track was from a British production — 'Slumdog Millionaire'.)
"It feels great," Keeravani said about his historic precedent. He said that in his view the Oscars are the best, for "they involve the dreams of artists from all over the world; which is not a joke".
Keeravani added during his conversation with Deadline: "It takes a great deal of effort and credibility. That's why the Oscars are the Oscars. That is why we respect and value them very much. And I'm very proud to be nominated for the first time from (South) Asia in this music category. I'm thrilled."
'Naatu Naatu' is a critically acclaimed hit among not only members of the Academy, but also the Golden Globes and Critics Choice Awards, where the song took home awards for its nominated categories. What did it mean to have his song continually climbing the ranks in both pop-culture and cinematic history?
"For me, 'Naatu Naatu' means the world." Keeravani explained in reply to the question from Deadline. "It was just a song when it was born, when I saw my song on the screen after the (scene) was done with choreography, I said, 'Oh my God! This is my son.' This was my infant son and now my son has become big."
He concluded by saying: "He has become a major. Now he's driving cars, he's dancing, and he has a girlfriend. Yesterday, he was an infant in my cradle. And now my son is going places and bagging a good name for me. I am feeling like a proud father. I am grateful for this brainchild. And for all the people who made this big wave possible."