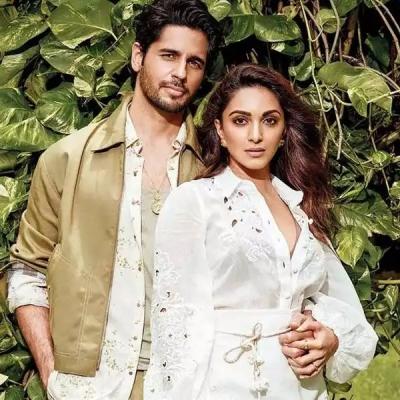 If sources from the Bollywood and Rajasthan hotel industry are to be believed, actors Kiara Advani and Sidharth Malhotra will come on February 5 to tie the nuptial knot in Rajasthan, thousands of km away from Mumbai.
The families will reach Jaisalmer a day earlier, on February 4.
Around 150 VVIPs will reportedly attend this high profile wedding along with the guests from the cinema industry.
Kiara and Sidharth will arrive in Jaisalmer on February 5.
Preparations have also started at the Suryagarh Hotel. Special security arrangements have been made to monitor the security of the VVIP guests who have been invited in the wedding.
Sources said that a wedding planner company in Mumbai is looking after the arrangements.
The Suryagarh Hotel is located about 16 km from Jaisalmer.
Kiara-Siddharth will tie the knot on February 6 at Suryagarh Hotel in Jaisalmer.
Sources said that a wedding planner company in Mumbai is looking after the arrangements.
Bollywood superstar Shah Rukh Khan's ex-bodyguard Yasin will handle the security and the hotel staff reportedly are also not able to take their mobile phones inside.
Their mobiles will be kept in a locker, so that no photo or selfie is leaked.
The crew coming from Mumbai will also not be allowed to use mobile phones. More than 100 private security guards have been deployed.
The hotel has 84 luxury rooms booked for guests.
At the same time, 70 luxury vehicles have been booked for the guests. This includes Mercedes, Jaguar and BMW.
The contract for the vehicles has been given to Jaisalmer's biggest tour operator, Lucky Tour & Travels.
About 150 guests have been invited to the star couple's wedding, a source said, adding: "Apart from the families of both, many big names in the industry have been invited, which include directors Karan Johar, Shahid Kapoor, Katrina and Vicky Kaushal, fashion designer Manish Malhotra and Mukesh Ambani's daughter Isha Ambani. Salman Khan is also expected to visit."
Kiara and Sidharth have not yet announced anything about their marriage.