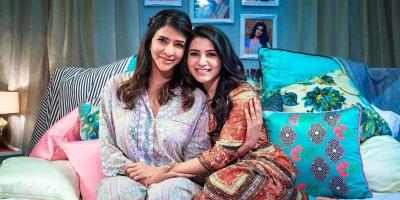 On International Women's Day, Tollywood actress Lakshmi Manchu teamed up with her long-standing comrade Samantha Prabhu to release a high-octane number — 'Telusa Telusa' — from her upcoming film 'Agninakshatram'.
The song about women's empowerment features Lakshmi and her daughter Nirvana. 'Telusa Telusa' will be attached with the rolling credits of the film.
Lakshmi said, "My daughter features in the song. She has done a few cameos here and there with my brother Manoj, but this is her first with me."
Speaking more about her daughter, she said: "She is not shy in front of the camera. What is more empowering than making a song on women's empowerment with your own girl alongside you. When she grows up and sees this, she would know that I meant this. The beauty of this song is that we only speak of women's empowerment and not a single word to put men down."
Brinda Master has choreographed 'Telusa Telusa' featuring Lakshmi, her daughter and many talented dancers.
Achu Rajamani has composed the music for this song while vocals are by noted singers Sunitha Sarathy, Sireesha and Aditi Bhavaraju, and the lyrics are by Kasarla Shyam. Vamsee Krishna Malla has directed the film. Lakshmi has rapped for this song adding a lot of gusto to the track.
Speaking about her association with Samantha, Lakshmi said, "Samantha is the epitome of individuality. We as women in this industry got to do it on our own. I know Sam and her struggles and how she held herself together, anyone else in her place would have crumbled.
"Even in her lows, Samantha has built herself up. She truly inspires me and the whole of the country and beyond. And what is more empowering to have a really empowered woman to release the song on women's day."
Commenting on 'Telusa Telusa', Samantha said, "I want to congratulate Lakshmi for coming up with this powerful song. 'Telusa Telusa' will stay with us for days together, as it is very inspiring. The visuals are also fabulous and distinct.
"I am glad to present this meaningful song and hope that we are able to reach out to as many women as possible. A thundering applause to the entire team for giving us such a memorable number."
Speaking about the song, Lakshmi said, "The visuals are all thanks to the one and only Brinda Master. I could not have imagined doing this song without her in the picture. What has come through is unbelievable. The cars that you see towards the end are together worth Rs 60 crore. I'm not kidding, and that is not even scratching the surface."