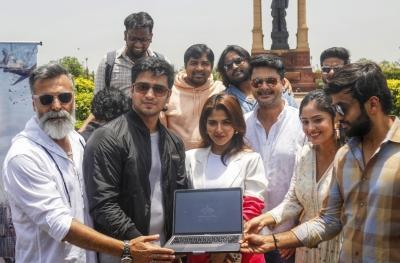 Teaser of 'Spy' starring Nikhil Siddhartha was launched on Monday at the iconic Netaji Subhash Chandra Bose statue at India Gate here.
Ishwarya Menon, who has paired with Nikhil as the female lead, and other members of the cast of pan-India movie were present during the launch.
The teaser of the much-awaited movie is scheduled to be released online in all major languages at 5:04 p.m. on Monday.
This is claimed to be the first-ever movie teaser to be launched at the iconic landmark at Kartavya Path.
The venue was selected for the launch as the movie is said to be based on the hidden story of Subhash Chandra Bose, who gave the slogan 'Give me blood and I shall give you freedom'.
A promo of the teaser event says that Kartavya Path is the symbol of resilience, courage, determination and Subhas Chadra Bose.
'Spy' is scheduled to be released in all southern languages and also in Hindi on June 29.
Coming after 'Karthikeya 2', the biggest blockbusters of 2022, 'Spy' has generated a lot of excitement among Nikhil's fans.
'Karthikeya 2' gave Nikhil the popularity in Bollywood. He recently received the best actor people's choice award at the Bollywood Life Awards in Hindi.
K. Rajashekar Reddy is the producer of 'Spy' which is being made with a huge budget by Ed Entertainment.
Editor Garry B.H. is making his debut as director with this film, which features Aryan Rajesh in a special role.
Rajesh, brother of Allari Naresh, is making his comeback in Tollywood in an important role in this film after a gap of four years.
The output of the movie is said to be impressive. A leading OTT platform and Star network reported to have bagged non-theatrical rights.