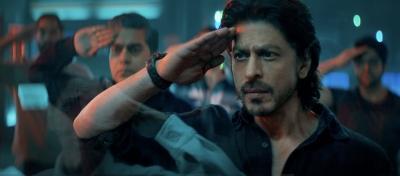 The 'Badshah' of Bollywood Shah Rukh Khan's latest release 'Pathaan', directed by Siddharth Anand, has emerged as a historic hit as it clocked another century plus day and registered Rs. 113.6 crore gross on Day 2, taking the total worldwide collection to an astronomical Rs. 219.6 crore gross.
On Day 2, 'Pathaan' collected Rs. 68 crore nett in the Hindi format, while its dubbed formats earned 2.5 crore nett.
The total India collection on Day 2 was 70.50 crore nett (82.94 crore gross). It thus became the first Hindi film to breach the 70 crore nett collection on a single day. Meanwhile, overseas collection was also incredible as it collected 30.70 crore gross.
'Pathaan' created more history on its second day when it beat its own record for the highest day ever which it set on the opening day — Rs. 55 crore in Hindi format + Rs. 2 crore in dubbed formats — amounting to a total of Rs. 57 crore nett on Day 1.
Akshaye Widhani, CEO of Yash Raj Films, says, "As an industry, we are rejoicing today. This is the most important sentiment emerging out of Pathaan's success."
"All of us at Yash Raj Films are grateful for the incredibly humbling support from media, audiences and the industry towards Pathaan. It is this unanimous love for the film that has resulted in Pathaan shattering all existing records and creating new ones. We are happy that the film has entertained everyone in such an immersive manner."
He adds, "We share this moment with the entire team of Pathaan including our director Siddharth Anand, the superstars of our nation Shah Rukh Khan, Deepika Padukone and John Abraham and every single person who has tirelessly worked in making Pathaan the gigantic success story that it has become today. Indians globally are celebrating the film and SRK's return to the cinemas."
"It's really special for us to witness this outpouring of warmth. We are overwhelmed as a team and we can only thank everyone for their belief in us as a team."