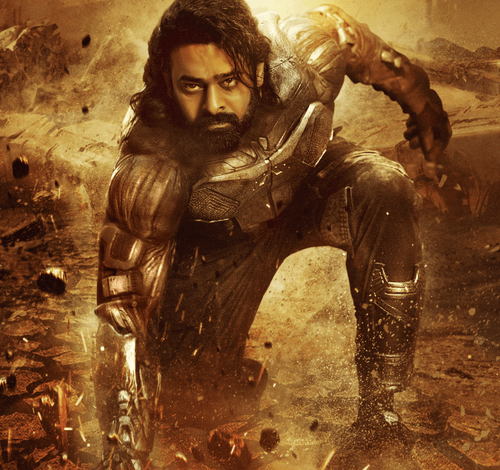 The hype around the upcoming multi-starrer 'Project K' seems to be growing with every passing second. As the stars of the film touch down in San Diego for the film's event at the San Diego Comic-Con, the makers of the film have unveiled Prabhas's first look from the film promising a terrific cinematic experience.
In the sepia toned captivating image, Prabhas dons an intriguing avatar, exuding an air of mystery and allure. The finely crafted visual is a testament to the film's unparalleled production values and VFX.
In the picture, Prabhas can be seen donning an armour as he punches. The ground sending across the tremors while he dons long hair and stares directly into the camera. His armour seems to be made up of metal and metal coils.
The audience may find the similarities between the armour and the. Body suit of Shah Rukh Khan's character of G.one from the 2011 film 'Ra.One', which also was a sci-fi film.
Prabhas's first look from 'Project K' was shared on social media by the film's producer Swapnadutt Chalasani.
Earlier, the intense look of Deepika Padukone was unveiled by the makers. Adding to the thrill, 'Project K' is set to make its highly anticipated debut at the prestigious H Hall of San Diego Comic-Con.
Directed by Nag Ashwin, 'Project K' boasts an ensemble cast. Of industry luminaries, including Amitabh Bachchan, Kamal Haasan, Prabhas, Deepika Padukone, and Disha Patani, among others.
The film, produced by Vyjayanthi Movies is a sci-fi epic and is set in a distant future, and is set for a theatrical release on January 12, 2024.
The film, which also marks Deepika's debut in Telugu cinema, will be released in multiple languages across India.