Entertainment & Cinema
Prabhas take fight to global mafia in Salaar: Part 1, exploring international boundaries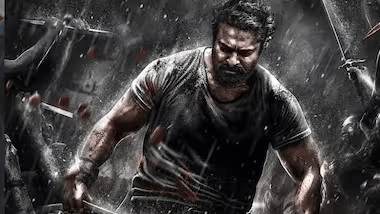 The teaser for Prabhas' upcoming action-thriller film 'Salaar: Part 1 – Ceasefire' really took Indian audiences by surprise and became a hot topic of much debate.
While not much is known about the movie, it is aiming to push boundaries and go full on international, as Salaar a.k.a Prabhas will take a brutal fight to the international mafia.
Audiences got a tease of 'Salaar' on July 6, giving some glimpses and interesting visuals that spoke volumes of its storytelling methods, direction, production and its tone as it proceeds to keep its feet into international territory.
The teaser was dark, violent, grey in colour palette and hints that it will likely be a gory affair.
The teaser of 'Salaar: Part 1 – Ceasefire' has made it clear that the titular character of Salaar will be dealing with the international mafia in pure 'Bahubali' fashion and will attempt an international level of crime that indeed broadens its canvas.
As such, the director Prashanth Neel is aiming to make it even grander. Than his previous film 'KGF: Chapter 2' which did wonders at both the box office and with the audiences.
It's profoundly seen in the teaser when Tinnu Anand addressed Salaar, he spoke in simply English. To drive home to everyone the sheer gravity of the danger. That now faces them, as the goons standing around weren't Indian.
The description that Tinnu Anand gives about Prabhas's character presents him as someone. Who ought not to be trifled with and someone who is completely unpredictable. 
As such, Salaar can be seen dealing with the international mafia, and indeed it would be interesting. To see how he takes his one-man fight globally, cutting across criminal circles for his elusive objective.
The teaser has already made it abundant that Prashanth Neel. Is aiming to go all out in 'Salaar: Part 1 – Ceasefire' holding nothing back as the teaser. Had packed some stirring visuals, a haunting and suspense packed background score, and a grand canvas for superstar Prabhas. S never seen before avatar, that has framed well the most ambitious project of the director. 
The movie will also be a crucial one for Prabhas after his previous film. Adipurush' was panned both by critics and audiences, and became a massive flop.
Produced by Hombale Films, 'Salaar: Part 1 – Ceasefire' will star Prabhas along with Prithviraj Sukumaran, Shruti Haasan, and Jagapathi Babu. Packing in the grand fervour of 'KGF' but even darker than before, the movie will hit theaters on 28 September 2023.