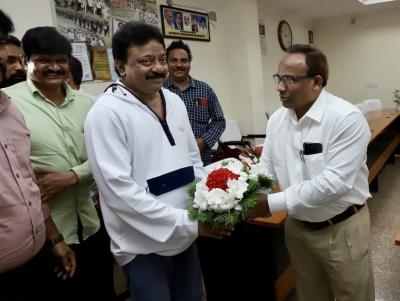 Well-known filmmaker Ram Gopal Varma has received his engineering degree 37 years after he finished B Tech from Acharya Nagarjuna University in Guntur.
RGV, as the filmmaker is popularly known, took to Twitter to share the picture of his degree certificate and also his excitement.
"Super thrilled to receive my B tech degree today 37 years after I passed, which I never took in 1985 since I wasn't interested in practicing civil engineering," he tweeted. He thanked the university for the same.
The director had passed B Tech (civil engineering) with second class in the examination held in July 1985.
RGV also shared a picture with the professors of the university and wrote: "The uneducated me with the highly educated professors of Acharya Nagarjuna University."
"I told the honourable vice chancellor Prof Raja Shekar garu I don't deserve this honour but he insisted I do," he added.
"Prof.Rajashekar garu..I usually feel horrible to be honoured ..But this time I truly felt honoured to be with such honourable people on such an honour filled occasion," RGV wrote.
Sharing another picture taken while addressing the gathering, the director wrote: "Was trying to spoil Acharya Nagarjuna University students and scholars but they spoiled me."
The 60-year-old made his debut in Telugu film industry with crime thriller Siva in 1989.