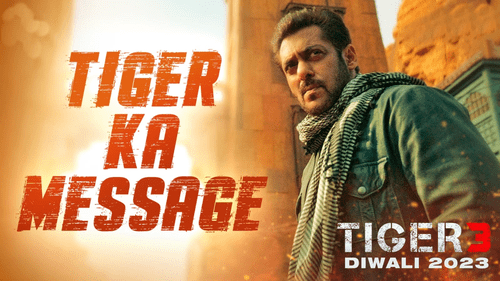 Bollywood superstar Salman Khan is all geared up for 'Tiger 3'. But ahead of the release his character Tiger a.k.a Avinash Singh Rathore has dropped a message, where he is seen talking about clearing his name and service for the nation in the film.
A video was dropped on Wednesday titled Tiger Ka Message that revealed that Tiger is in peril after being framed as Enemy Number 1.
This video sets up the plot of the film that will show how Tiger goes on a life-threatening. Mission to hunt down his enemies in this vengeful action entertainer. Tiger wants to clear his name for his country, for his family and he won't stop at nothing. 
As the video ends, Salman's Tiger is heard saying: "Jab tak Tiger mara nahi. Tab tak Tiger hara nahi."
Tiger Ka Message, a video that is a precursor to the trailer of 'Tiger 3', marks the start of the promotional campaign for the film.
Aditya Chopra is building the YRF Spy Universe brick by brick and 'Tiger 3', starring. Salman Khan and Katrina Kaif, is the next big one from this franchise.
This is the fifth film from the YRF Spy Universe and the audience is now invested in seeing. The characters of this franchise grow with the life stories of three super spies — Tiger, Kabir, and Pathaan.
The YRF Spy Universe kicked off back in 2012 with 'Ek Tha Tiger' followed by 'Tiger Zinda Hai' (2017), 'War' (2019), and 'Pathaan' (2023).
Following 'Ek Tha Tiger', 'Tiger Zinda Hai' and 'War', it was in 'Pathaan' that Aditya Chopra. Officially revealed that he was building the YRF Spy Universe and unveiled the franchise logo. 
The crossover of characters also started with 'Pathaan', which saw the union of Shah Rukh Khan. And Salman Khan in a larger-than-life action sequence celebrating the aura of these two cinematic icons.
Directed by Maneesh Sharma, 'Tiger 3' is set to release on Diwali.