Entertainment & Cinema
Samantha refutes claims of her seeking Rs 25 cr financial help from a Telugu superstar for Myositis treatment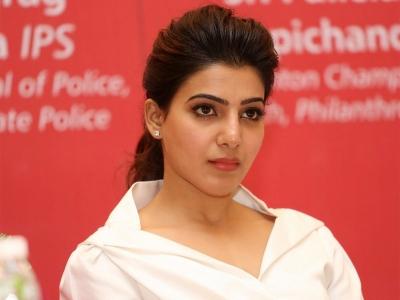 Actress Samantha Ruth Prabhu, who has been on a break and has been treating her fans with beautiful pictures from her holiday, has refuted the claims of her taking Rs 25 crore from a Telugu superstar for her treatment of Myositis. The actress also called out the media for false reportage.
Myositis is a medical condition causing inflammation in muscles. Weakness, swelling, and pain are the most common Myositis symptoms. In October last year, the actress shared on her social media that she was diagnosed with Myositis a few back and that the fight against the disease is taking longer than she expected.
On Saturday, the actress took to the Stories section of her Instagram and penned a note in which she outrightly denied taking any kind of financial help.
She wrote, "Rs 25 crores to treat Myositis!? Someone got you a pretty bad deal. I am glad I am only spending the smallest fraction of that. And, I don't think I was paid in marbles for all the work I've done in my career".
She further mentioned that she is capable of taking care of herself and. Her medical expenses given her work in the industry during all these years.
"So, I can easily take care of myself. Thank you. Myosotis is a condition thousands suffer from. Let's please be responsible with the information we put out regarding the treatment," she added.
After wrapping up the Indian counterpart of the web series 'Citadel', as well as her Telugu film. 'Kushi', Samantha is taking a break from acting for at least one year. During this period, she would primarily focus on her health, and undergo treatment for the autoimmune condition Myositis in the US.