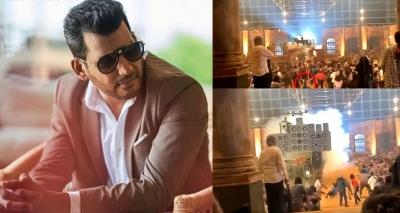 Tamil actor Vishal had a miraculous escape from a near-death situation during the shooting of his movie 'Mark Antony'.
It happened when a truck on the sets lost stability and advanced towards the actor and his co-actors. The huge truck was on the brink of crashing into the place where the actors, including Vishal, were stationed. Fortunately, each one of them escaped unscathed.
According to the plan, the truck was to hit a wall and then stop, but the wall collapsed and the truck apparently lost control and advanced towards the area where the artistes were stationed.
Vishal said in his tweet: "Just saved my life in a matter of few seconds and a few inches, thanks to the Almighty. Numb after this incident. Back on my feet and back to the shoot."
The movie directed by Adhik Ravichandran has SJ Surya playing a stellar role, the details of which are still under wraps. The internationally renowned stunt director Peter Hein, together with Dhilip Subbarayan, Kamal Kannan and Ravi Varma, are doing the action scenes.
Other than Vishal and SJ Surya, the cast comprise Abhinaya, Ritu Varma and Sunil Varma.