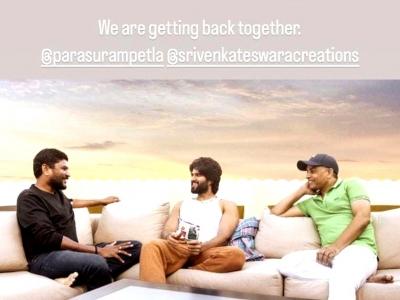 Down but not out: that seems to be the message that Vijay Devarakonda is sending out after his failure to click in the box office with 'Liger'. He has just announced his next project with Parasuram, who previously helmed 'Geeta Govindam' which saw Vijay cast with Rashmika.
"We are getting back together" shared Vijay Deverakonda while announcing his next with 'Geeta Govindam' director. The 2018 Telugu movie is among Vijay's biggest hits and firmly out him in the top bracket.
The movie is being bankrolled by ace producer 'Dil' Raju's Sri Venkateswara Creations who tweeted: "Very happy to announce that we are collaborating with blockbuster combination of Vijay Devarakonda and Parasuram."
Vijay Devarakonda's last theatrical outing 'Liger' a pan-India movie directed by Puri Jagannath, was a box office disaster. The debacle was a big blow for the Tollywood actor who had captured the imagination of youngsters across the country.
The announcement of his next movie with Parasuram indicates that Vijay is getting back to the drawing board to redefine his career path with movies that are story-oriented.