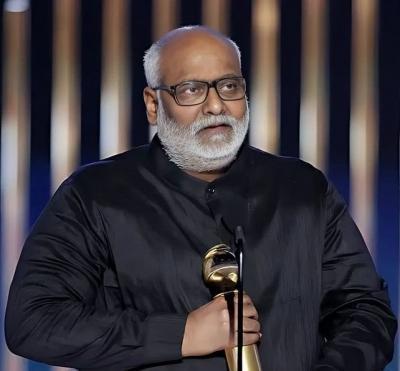 M.M Keeravaani, 'RRR' composer and 'Naatu Naatu' songwriter; costume designer, production designer and producer on 'Elvis' Catherine Martin, Claudio Miranda, cinematographer of 'Top Gun: Maverick', and Florencia Martin, production designer for 'Babylon' are among the recipients of Variety's Artisans Awards.
The honourees will be feted at the Santa Barbara Film Festival on February 13 at the Arlington Theatre, reports Variety.
Now in its ninth year, Variety's partnership with the Santa Barbara Film Festival celebrates the artisans who have showcased the most innovative work of the year in their craft.
Said Roger Durling, the festival's executive director: "From big-budget productions to independent cinema, artisans have shown us this past year the strength and vitality of the collaborative process in filmmaking, and we at SBIFF cherish our partnership with Variety and the opportunity to spotlight the accomplishments of these singular artists."
Jazz Tangcay, Varietyas senior artisans editor, will moderate a panel conversation as well as one-to-one conversations.
She said: "This has been an incredible year for cinema with a phenomenal showcasing of crafts. It's an honour and joy to bring this community to the Santa Barbara Film Festival and to work with Roger on this magical night. Each year, Variety looks forward to celebrating and highlighting this group of artisans and to remind people just how invaluable their work is to film and to celebrate excellence in their work.