News
Ambulance carrying patient catches fire in Andhra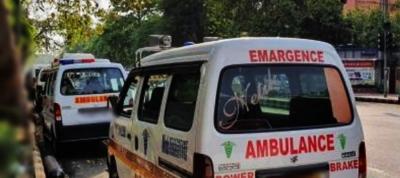 An ambulance carrying a patient caught fire injuring a person and destroying tobacco worth Rs 40 lakh.
The incident occurred in Andhra Pradeh's Prakasam district late on Monday.
The 108 ambulance was carrying a patient for dialysis from Rajasahebpeta village to a hospital. After covering some distance, driver Tirupati Rao noticed smoke in his cabin. He immediately stopped the ambulance and alerted his colleague Madhusudhan Reddy. The latter helped the patient and his mother accompanying him to get down.
The fire, which apparently broke out due to a short circuit, soon spread to the entire vehicle. An oxygen cylinder kept in the ambulance exploded and under its impact some burning material of the vehicle fell on a nearby shed where farmers had stored tobacco. The entire stock was reduced to ashes.
A person standing near the shed also suffered burn injuries. He was shifted to a hospital.
The incident sent panic among people in the area. A fire tender rushed there but by that time the entire ambulance and tobacco stock was gutted.
Three farmers who had stored the tobacco in a shed said they suffered a loss of Rs 40 lakh. Police said they registered a case and took up the investigation.