News
Andhra tribal youth assaulted, urinated on face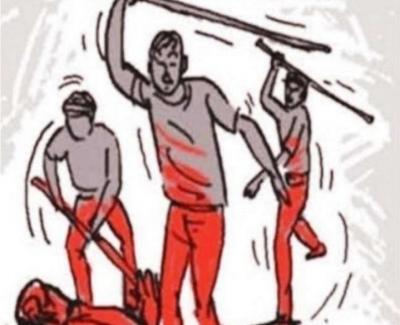 A shameful act of a group of youth who urinated on the face of a tribal youth after assaulting him has come to light in Andhra Pradesh.
Shocking visuals of the incident that occurred in Ongole town of Prakasam district about a month ago surfaced on Wednesday.
The incident was the fallout of a rivalry between the accused and the victim. Both the accused and the victim were having a criminal background.
Coming close on the heels of an incident in Madhya Pradesh where a man urinated on a tribal labourer, the Ongole incident triggered an outrage with tribal groups demanding an action.
A group of nine youths attacked one Naveen and assaulted him. In the video clip circulated on social media, a profusely bleeding victim is seen pleading the attackers to spare him. Not stopping at that, some of the accused urinated on the victim's mouth and asked him to drink it.
Ongole police have reportedly picked up a couple of accused. The main accused was absconding.
Ramananjeyulu alias Anji, the main accused in the case, and Naveen are said to be childhood friends. Both were involved in more than 50 cases of theft. Naveen was arrested by police and jailed in a few cases while Anji had somehow managed to escape the police dragnet. Differences cropped up between them recently.
About a month ago, Anji called Naveen to a place behind KIMS Medical College. When Naveen reached there, Anji was present with eight others. They had a heated argument. The assailants, who were drunk, thrashed Naveen mercilessly. When he was lying on the ground with bleeding injuries, at least three of the offenders urinated on his face. They also filmed their act on mobile phones. They are heard asking the victim to drink the urine.
On a complaint by the victim, police had registered a case under the Scheduled Caste Scheduled Tribe (Prevention of Atrocities) Act, but apparently no arrests were made. After one of the accused uploaded the video on social media and it triggered an outrage, police swung into action and made some arrests.