News
Army helicopters for rescue in flood-hit Telangana village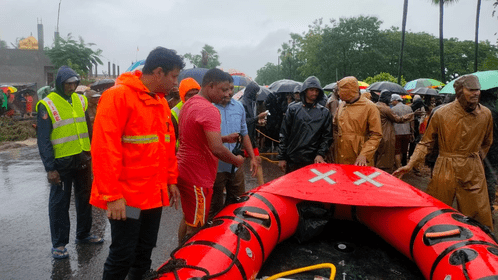 Two Army helicopters will be pressed into service to rescue people stranded in floods in Moranchapalle village in Jayashankar Bhupalapally district of Telangana.
Chief Secretary Santhi Kumari said two Army helicopters will be sent to the village. The decision was taken after Chief Minister K. Chandrasekhar Rao reviewed the flood situation with top officials. He directed them to use helicopters for rescue operations.
As civilian helicopters couldn't undertake the rescue operation due to bad weather conditions, the state government approached the Army to deploy its choppers to rescue the stranded people.
Water from a nearby overflowing stream entered the village after which houses were under four-five feet of water. Residents climbed on the roof-tops and trees to save themselves.
Several districts in Telangana were facing flash floods due to heavy rain since Wednesday.
Some places in Mulugu, Jayashankar Bhupalapally, Bhadradri Kothagudem, Karimnagar, Hanumakonda, Adilabad, Warangal and Jangaon districts. Recorded extremely heavy rainfall between 23.88 cm and 65 cm during the 24-hour period that ended 8 a.m. on Thursday.
Laxmidevipeta at Venkatapur mandal of Mulugu district received the highest rainfall of 64.98 cm. Chityal in Jayashankar Bhupalapally recorded 61.65 cm rainfall. Chelpur in Jayashankar Bhupalapally received 47.58 cm. Regonda in the same district recorded a rainfall of 46.70 cm.
Kadem project in Nirmal district is facing a danger due to floods. The water was flowing above the reservoir built on Kadem, a tributary of Godavari river.
The water level at the project was 702 feet against its full level of 700 feet. Officials tried to open all 18 gates to release the water downstream but four gates did not open. MLA Rekha Naik and other officials had to run away from the project after realising the danger.
However, irrigation department officials expect that the water level will recede in the next few hours. The inflow at the project was 2.14 lakh cusecs against 2.34 lakh cusecs feet.
Meanwhile, Godavari river continued to flow above the second danger mark at Bhadrachalam. According to Bhadradri Kothagudem district collector, the water level at Bhadrachalam at 12 noon was 50 feet. Authorities were releasing 12.52 lakh cusecs of water. Second warning signal issued at 48 feet was continuing. Third warning will be issued if the level rises to 53 feet.