News
BJP announces candidates for 4 MLC seats in Andhra, Telangana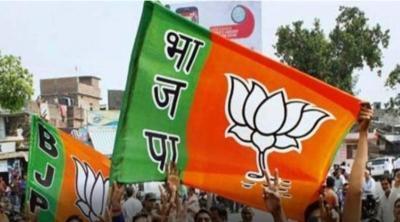 The Bharatiya Janata Party (BJP) on Tuesday announced candidates for four graduates' and teachers' constituencies of Andhra Pradesh Legislative Council and Telangana Legislative Council scheduled to be held on March 13.
The party has named candidates for three graduates' seats in Andhra Pradesh and one teachers' seat in Telangana. Sannareddy Dayakar Reddy will be the BJP candidate for Prakasam-Nellore-Chittoor constituency.
The saffron party has fielded Nagaruru Raghavendra for Kadapa-Anantapur-Kurnool and P.V.N. Madhav for Srikakulam-Vizianagaram-Visakhapatnam constituency.
In Telangana, the BJP has announced candidature of A. Venkata Narayana Reddy for Mahabubnagar-Ranga Reddy-Hyderabad teachers' seat.
Candidates for other MLC seats in both the Telugu states will be announced later.
The Election Commission of India (ECI) last week announced the schedule for biennial elections to 15 MLC seats – 13 in Andhra Pradesh and two in Telangana.
The elections will be held on March 13 for eight local authorities' constituencies, three graduates' and two teachers' constituencies in Andhra Pradesh. Polling will also be held for one teachers' constituency and one local authorities' constituency in Telangana.
The ECI announced that notifications for these elections will be issued on February 16. The last date for filing of nominations will be February 23. The nominations will be taken up for scrutiny the next day. The last date for withdrawal of nominations will be February 27.
Polling will be held on March 13. The counting of votes will be taken up on March 16.