News
Congress not to join Kavitha's one-day hunger strike in Delhi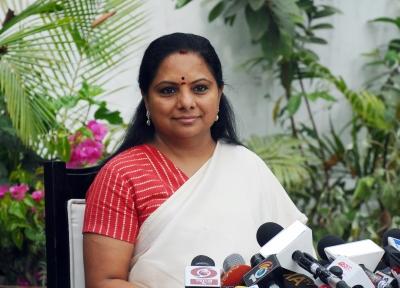 Congress will not participate in the one-day hunger strike called by BRS MLC K. Kavitha on Friday at the Jantar Mantar , said party leader Jairam Ramesh.
Kavitha, on Thursday while praising Sonia Gandhi for pushing the Women Reservation Bill during the UPA's tenure criticised the party for "arrogance" on the issue of alliance, and added that the Congress "should be a team player". She had said that she had spoken with Congress president Mallikarjun Kharge and general secretary K.C. Venugopal to send a representative to the protest.
The BRS said that they have got confirmation from AAP – Sanjay Singh and Chitra Sarwara; Shiv Sena (Uddhav) delegation; Akali Dal – Naresh Gujral; PDP – Anjum Javed Mirza; NC- Dr Shami Firdous; Trinamool Congress – Sushmita Dev; JD(U)- K.C. Tyagi; NCP – Dr Seema Malik; CPI – Narayana K.; Sitaram Yechury – CPI(M); Samajwadi party – Pooja Shukla, RJD – Shyam Rajak; and Rajya Sabha MP Kapil Sibal.
Earlier, she had invited 18 political parties, including the Congress to join the one-day hunger strike to press the demand for the Women Reservation Bill. She said around 6,000 people will be present and her organisation, Bharat Jagruti Manch has reached out to the like-minded parties and organisations.