News
IAS vs IPS: K'taka govt slaps notices on warring women officers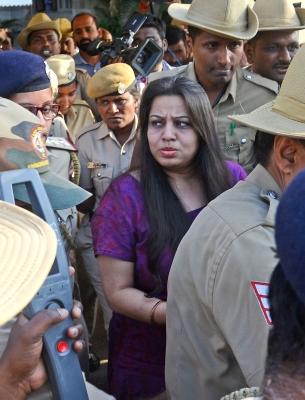 The Karnataka government on Tuesday served notices on the warring IAS officer Rohini Sindhuri and IPS officer D. Roopa Moudgil over their public spat and issued a gag order to rein them in.
According to sources, the Department of Personnel and Administrative Reforms (DPAR) has asked the officers not to go to the media or share anything on social media against each other. Under Secretary James Tarakan issued the notices and warned them against violating rules.
"In spite of having a forum to file your objections and complaints, you have gone to the media causing severe embarrassment and bringing disrepute to the government," the notice stated.
Being a government officer, this conduct is not tenable and is against the Service Rules. As per rules, one can approach the media only regarding serving duties and to give information on government projects. The statements to the media should have been avoided, it further read.
Strict orders have been given to both officers not to go to the media and follow the circular of Service Rules and maintain discipline. The notice had been issued as per the directions of Chief Minister Basvaraj Bommai.
Both the officers had lodged complaints and counter complaints against each other with the Chief Secretary of the government Vandita Sharma. The matter was also discussed in the cabinet meeting held on Monday. The ministers had raised their concern about the public fight of officers affecting the image of the government.
Rohini Sinduri's husband had called Roopa "mentally ill", while Rohini had asked her to get well soon before the media.
Reacting to this, Roopa had posted a screen shot containing deleted messages and alleged that Rohini had sent nude pictures on WhatsApp. She had questioned whether an IAS officer can send her nude pictures?
Both the officers came to confrontational mode after Roopa published Rohini's private pictures and alleged that she had sent them to IAS officers and also questioned corruption allegations against her.