News
K'taka Assembly elections: Polling begins across state amid tight security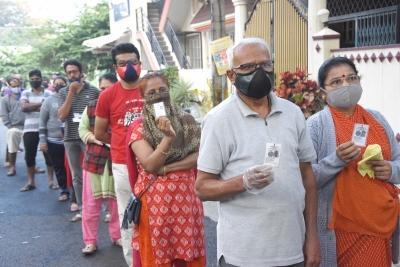 K'taka Assembly elections: The polling to elect the 16th Karnataka Legislative Assembly began on Wednesday morning amid tight security arrangements.
The polling, which started at 7 a.m., will continue till 6 p.m. Brisk voting is expected across the state, as major political parties in the state are locked in the close contest.
To clarify the ruling BJP is hoping to create history by obtaining a simple majority for the first time in the state, which is considered the gateway for South India. The saffron party won 110 seats in the 2008 Assembly elections and 104 seats in the 2018 K'taka Assembly elections. On both occasions, it succeeded to form the government "through operation lotus".
Riding high on anti-incumbency, the opposition Congress wants to make a comeback to power. The state has not re-elected any government for 38 years. Late Chief Minister Ramakrishna Hegde-led Janata Party government was the last party to be re-elected in 1985. The Congress has claimed that all its internal surveys indicated that it will come to power in the state.
K'taka Assembly elections
JD(S) wants to play a major role in the formation of the government by becoming a king-maker. The party formed coalition governments by joining hands with BJP and Congress parties, when there was a fractured mandate.
Only three Chief Ministers associated with the Congress have completed their full tenure of five years so far. Former Chief Ministers Nijalingappa, D. Devaraj Urs and Siddaramaiah achieved the feat.
The last term (2018-2023) saw three Chief Ministers — H.D. Kumaraswamy of JD (S), B.S. Yediyurappa and Basavaraj Bommai of BJP — in the period of five years.
There are 58,545 polling stations in the state. The number of total voters are 5.30 crores among which 2.66 crore are males and 2.63 are female voters. There are 4,927 voters belonging to the third gender in the state.
The state has 16,914 voters who are centenarians. The voters aged between 30 to 40 years (1.41 crore) and 40 to 60 years (1.89 crores) are dominant voting groups. There are 11.71 lakh voters in the age group of 18 to 19 years.
The election is being held for 224 Assembly constituencies and 113 is the magic number of simple majority. Aam Aadmi Party (AAP) and Social Democratic Party of India (SDPI) are hoping to make it to the Karnataka legislature for the first time.