News
Nirmala Sitharaman underlines need for robust ADB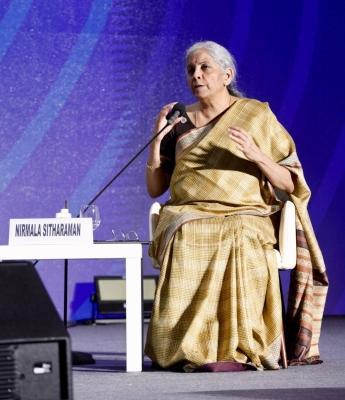 Finance minister Nirmala Sitharaman on Thursday stressed on the need for a robust Asian Development Bank (ADB) that adopts a transformational rather than incremental approach for sustainable and resilient regional development.
Nirmala Sitharaman (born 18 August 1959) is an Indian economist and politician serving as the 28th Minister of Finance and 33rd Minister of Corporate Affairs of the Government of India since 2019. She is a member of the Rajya Sabha, the upper house of the Indian Parliament, representing Karnataka since 2016 and previously represented Andhra Pradesh from 2014 to 2016. Sitharaman previously served as the 28th Defence Minister from 2017 to 2019, thereby becoming India's second female defence minister and the second female finance minister after Indira Gandhi, and the first full-time female minister to hold each of those portfolios.
Nirmala Sitharaman made these observations while participating in the business session of the ADB's annual meeting in Incheon, South Korea.
The Finance Minister further underlined the need for ADB to focus on global public goods in their regional dimension while continuing to focus on its core agenda of poverty reduction and development in low-income countries.
Sitharaman appreciated ADB's efforts in exploring G20 expert panel recommendations for capital adequacy framework review.
ADB's annual meeting's theme "Rebounding Asia: Recover, Reconnect and Reform", resonates with spirit and theme of G20 India presidency "One Earth, One Family, One Future" and signals need for unity of purpose and collective action to achieve shared goals and responsibilities, the Finance Minister observed.