News
Objections to Justice Nazeer' appointment as Governor ill-founded: YSRCP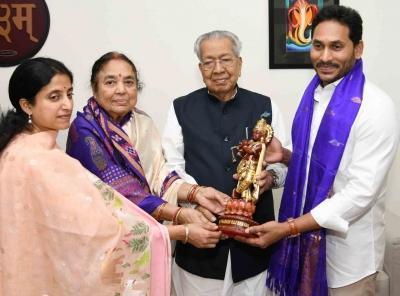 Andhra Pradesh's ruling party YSR Congress on Monday dismissed as "ill-founded" the objections of the opposition parties over appointment of retired Supreme Court judge Justice S. Abdul Nazeer as the state's Governor.
YSRCP Parliamentary Party leader V. Vijayasai Reddy said that all eminent citizens have equal right to become Governor.
"Objections of the opposition on Justice Abdul Nazeer's appointment as the Governor of AP are ill-founded. Article 157 is clear on the qualifications for the appointment of Governor. All eminent citizens have an equal right to become a Governor of a State," tweeted the Rajya Sabha member.
The Congress had on Sunday criticised the appointment of Justice Nazeer as the Governor. Party spokesperson Abhishek Singhvi alleged that this is being made a tradition which is wrong.
Singhvi recalled statement of late BJP leader Arun Jaitley that the desire of a post-retirement job influences pre-retirement judgements, and the former Union Minister had termed this as a threat to the independence of judiciary.
Justice Nazeer, who hails from Karnataka, was on the Constitution bench of the Supreme Court that delivered verdict in Ayodhya case.
He was also on the full bench that delivered the verdict on the triple talaq controversy.
Welcoming Justice Nazeer, Chief Minister Y.S. Jagan Mohan Reddy said on Sunday that he is looking forward to working with him in unravelling Andhra Pradesh's full potential.
Justice Nazeer succeeded Biswa Bhusan Harichandan, who was moved to Chhattisgarh Raj Bhavan.
Harichandan, a senior BJP leader from Odisha, had assumed office as Governor in July 2019, a couple of months after YSRCP came to power.
Meanwhile, Chief Minister Jagan Mohan Reddy along with his wife Y.S. Bharathi Reddy, called on Harichandan and his wife Suprava Harichandan at Raj Bhavan on Monday.
He thanked Harichandan for the services rendered to the state and wished him best in his new role as the Governor of Chhattisgarh.