News
PM inaugurates UP Global Investors Summit in Lucknow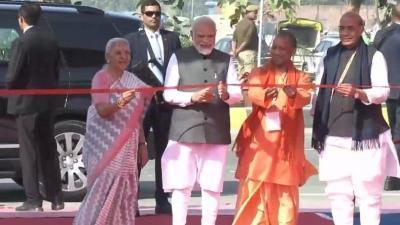 Prime Minister Narendra Modi inaugurated the three-day Uttar Pradesh Global Investors Summit 2023 in Lucknow on Friday.
Top industrialists, including Aditya Birla group Chairman Kumar Mangalam Birla and Reliance Industries Chairman Mukesh Ambani, participated in the event.
Hailing Chief Minister Yogi Adityanath-led government, Birla said it has taken several measures regarding ease of doing business, helping it emerge as an attractive state for investors. He appealed to the industrialists to invest in the state.
Birla industries has a 70-decade-old relationship with UP and his group has more than seven businesses in the state wherein 13,000 people work, he added.
Ambani, while speaking at the event, said that UP had become a centre of hope for New India due to improvement in law and order conditions and ease of doing business.
He added that the state had been fulfilling the conditions of industries and cooperation needed for the development of a state.
On the occasion of the launch, Yogi tweeted that investors, policy-makers, delegations from the corporate world and academicians would participate in the three-day UP Global Investors Summit in the 'New Uttar Pradesh' of 'New India'.
The CM said that investment is being done simultaneously in 75 districts of the state for the first time.
The summit will fulfill the resolution of making the state a $1 trillion economy as well as making the country a $5 trillion economy.
Five big pandals and tent cities have been erected on the lines of 5-star hotels in 25,000 square metres at the Defence Expo Ground in the city.
Patrolling has been increased along the borders of Nepal and neighbouring states.