News
PM Modi to be invited for Pran-Pratishtha of Ram temple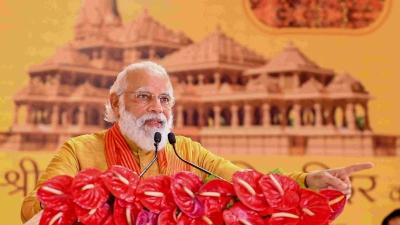 PM Modi The Board of Trustees of Sri Ram Janmabhoomi Tirath Kshetra Trust will invite Prime Minister Narendra Modi for the week-long 'Pran-Pratishtha' ceremony during which the idol of Ram Lalla will be installed in the sanctum sanctorum of the Ram temple in Ayodhya.
PM Modi The week-long ceremony will start from Makar Sankranti in January 2024, or a day after it. The Trust is consulting renowned astrologers to fix an auspicious date for the Pran-Pratishtha ceremony.
According to Champat Rai, general secretary, Sri Ram Janmabhoomi. Tirath Kshetra Trust, the Trust will also organise the event 'Ayodhya Pran-Pratishtha' in temples across the country.
Ram Janmabhoomi is the site that is hypothesized to be the birthplace. Of Rama, believed to be the seventh avatar of the Hindu deity Vishnu. The Ramayana states that the location of Rama's birthplace is on the banks of the Sarayu river in a city called "Ayodhya"
"It has been decided that a seven-day-long Pran-Pratishtha ceremony for the installation of Ram Lalla's idol will be organised. The Trust will send an invitation to Prime Minister Narendra Modi. As no date of the event has been decided yet, the Prime Minister will be apprised about the probable date of the event between December (2023) and January 26 (2024)," added Rai.
In the ongoing construction work of Ram Mandir, work related to the flooring. Of the ground floor of the temple is likely to start from Thursday.
"White Markana marble of Rajasthan will be used for flooring in the Ram Mandir," said Rai.
He was confident that construction work of the ground floor. Of the Ram Mandir would be completed by the end of this year.