News
Rains continue in parts of Telangana, Godavari in spate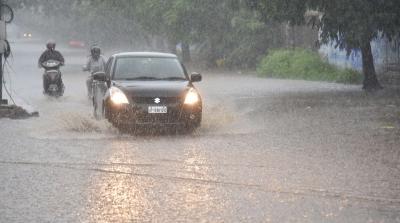 Rains continued unabated in parts of Telangana for the fifth consecutive day on Saturday, inundating low lying areas and bringing normal life to a grinding halt.
Lakes, tanks and other water bodies were overflowing due to incessant rains in some districts in north coastal Andhra.
With irrigation projects receiving huge inflows from upstream, authorities opened flood gates to release the flood water. Three persons were killed in rain-related incidents in the state on Friday.
In view of the incessant rains, the state government extended holidays for educational institutions by another day (Saturday).
Chief Minister K. Chandrasekhar Rao, who reviewed the situation, directed officials to remain alert to prevent loss of life. Heavy rains were lashing the united Adilabad district, inundating low-lying areas.
Rain water entered a few colonies in Adilabad town, causing severe hardships to the residents.
Penganga and Godavari rivers were in spate, submerging the low-lying areas. Projects in Godavari basin were receiving huge inflows from upstream.
Flood flow continues in Kadam project in Nirmal district. The water level has risen to 688.22 feet against a maximum level of 700 feet.
Authorities have opened 14 gates of the project to release 84,269 cusecs of water.
Swarna reservoir in Nirmal district was receiving massive inflows. The water level has risen to 1,180 feet against Full Tank Level of 1,183 feet.
Coal production in mines of Singareni Collieries Company Limited (SCCL) remained paralysed for the fourth day. The Kaulasa Nala project in Kamareddy district continued to receive huge inflows.
The water level in the project has gone up to 456.60 feet against full level of 458 feet. Sri Ram Sagar Project (SRSP) also continued to receive massive inflows.
The current water level in the project is 1,079.10 feet against full level of 1,091 feet. Officials say if the current inflows continue for 2-3 days, the project's gates will have to be opened.
Meanwhile, Godavari level receded at Bhadrachalam in Bhadradri Kothagudem district. The water level on Saturday morning dropped to 39.4 feet.
The district administration has withdrawn the first danger signal. However, with projects upstream getting huge inflows from neighbouring Maharashtra, the water level is likely to rise again.