News
Row over YSRCP MLA s appointment as head of Tirumala temple body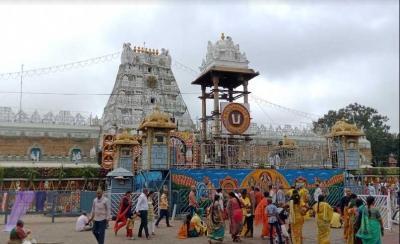 A row has erupted over the appointment of YSR Congress Party (YSRCP) MLA Bhumana Karunakar Reddy as the new Chairman of the Tirumala Tirupati Devasthanam (TTD), which runs the affairs the richest Hindu temple at Tirumala here.
The opposition parties have targeted the YSRCP government over appointing Karunakar Reddy despite his alleged Christian leanings.
The Jagan Mohan Reddy-led government on Sunday appointed Karunakar Reddy, who will succeed Y.V. Subba Reddy, whose two-time tenure came to an end on Monday.
Karunakar Reddy, who is a member of Assembly from Tirupati, is set to take charge as the new TTD trust board Chairman on August 10.
This is the second time that he will be heading the TTD board. He had earlier held the coveted post in 2006-2008 when Jagan Mohan Reddy's father Y.S. Rajasekhara Reddy (YSR) was the Chief Minister of undivided Andhra Pradesh.
Karunakar Reddy, a staunch loyalist of the YSR family, was then in the Congress. After Jagan Mohan Reddy quit the Congress and floated YSRCP following the death of his father YSR, Karunakar Reddy sailed with him.
Opposition parties have slammed the YSRCP government for appointing Karunakar Reddy, also a distant relative of Chief Minister Jagan Mohan Reddy, despite controversies during his earlier term.
BJP's Andhra Pradesh unit President and former Union minister D. Purandeswari said on Tuesday that only a person who believes in Hindu dharma should be appointed to the key post.
She said the TTD board Chairman is not a political rehabilitation post.
"Only those who believe in Hindu dharma can do justice to this post," she said.
Purandeswari also said the government had earlier appointed a board of trustees with 80 members. The appointment of 52 people was stopped after the issue was raised. This shows that the government is considering these appointments as political rehabilitation appointments.
"For the post of TTD Chairman, one who believes in Hindu dharma and who follows Hindu dharma should be appointed," she added.
Earlier, TDP state secretary Buchi Ram Prasad had alleged that Karunakar Reddy does not have any faith in Hinduism.
"Everyone knows he has Christian connections. We have all the evidence to prove this. In the past, there was a marriage at his residence, which took place completely as per Christian traditions," Prasad said.
He was apparently referring to the marriage of Karunakar Reddy's daughter Neeha Reddy in 2016. The picture of the wedding went viral on social media after a Government Order was issued appointing Karunakar Reddy as TTD Chairman.
Neeha Reddy was married to Y.S. Sumadhur Reddy, the son of Y.S. Ravindra Reddy and brother of Y.S. Rajasekhara Reddy (YSR).
The YSR family practises Christianity and the wedding was also held as per Christian traditions. However, Karunakar Reddy claims that he is a staunch practising Hindu.
BJP leader and former Chief Secretary I.Y.R. Krishna Rao also came down heavily on the government over Karunakar Reddy's appointment.
He said it was unfortunate that the TTD trust board chief's post had become a political appointment.
"Only those who have immense faith in the Lord should be appointed as the TTD Chairman," said Rao, who had worked as TTD executive officer in the past.
YSRCP, however, defended its decision.
Party MLA G. Srikanth Reddy said there is absolutely no controversy over Karunakar Reddy's religious faith. Accusing the opposition parties of creating an issue, he said that people of Tirupati know Karunakar Reddy and his religious faith.
Controversies are not new to appointments for TTD board.
When Jagan Mohan Reddy had appointed his maternal uncle Y.V. Subba Reddy as TTD Chairman in 2019, critics had questioned Subba Reddy's religious credentials. He had to publicly claim that he was a staunch practising Hindu and not a Christian.
Subba Reddy was re-appointed to the post for another term of two years in 2021. However, the government's move of constituting a jumbo TTD board had come under flak from the opposition.
The government had constituted an 81-member trust including the Chairman and 52 special invitees.
The government had issued an ordinance amending the Endowments Act 1987 to allow the appointments of special invitees.
On a Public Interest Litigation (PIL) challenging the appointment of 18 board members and special invitees, the Andhra Pradesh High Court had suspended the Government Order.
The petitioner, Bhanu Prakash Reddy, a BJP leader, had alleged that 14 of the TTD members have criminal background while appointment of four others was purely political in nature.
The petitioner had contended that the government had scant regard to personal details of the members and special invitees and whether they had faith in the Hindu customs and traditions followed in the world famous temple.
The Sri Venkateswara temple at Tirumala is the world's richest Hindu temple with assets. Of over Rs 2.5 lakh crore, including 10.25 tonnes of gold and annual revenues of about Rs 3,000 crore. 
The assets include land parcels, buildings, cash and gold deposits given as offerings by the devotees..
For 2023-24, TTD had passed a Rs 4,411 crore budget, a big jump of 43 per cent over the previous year. This is said to be the highest since TTD's inception in 1933.
The temple gets Rs 1,500 crore every year through Hundi collections or devotees' offerings.