News
Rural consumption at six quarter low led by declines in tractor sales, farm exports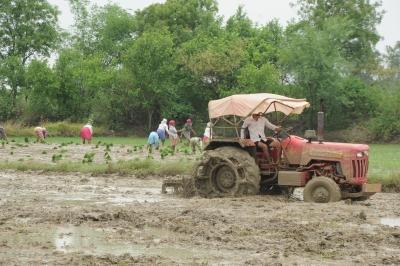 Rural consumption grew at six-quarter lowest of 2.8 per cent in 1QFY24 led by sharper declines in tractor sales and farm exports.
An analysis of 10 proxy indicators suggests that rural spending growth weakened to a six-quarter low of 2.8 per cent YoY in 1QFY24 vs. 2.9 per cent / 7.9 per cent in 4QFY23/1QFY23. Motilal Oswal Financial Services said in a report.
The deceleration was led by a sharper contraction in tractor sales and farm exports, which were partly offset by improving farmers' terms of trade, a 5-quarter high growth in fertilizer sales and rising farm credit.
Fiscal spending in the rural sector grew 7.5  per cent YoY in 1QFY24, better than 5.9  per cent. Growth in 4QFY23 and a decline of 17.5  per cent YoY in 1QFY23.
"Our analysis is also supported by the MGNREGA data. Employment demand by households under MGNREGA was much higher in the first four months. Of FY24 compared with FY23 and FY18-20 average", the report said.
In contrast, urban spending — compiled as simple average of nine proxy. Indicators — grew 6.4 per cent YoY in 1QFY24, the highest in three quarters (vs. 3.9 per cent YoY in 4QFY24).
It was mainly led by robust real personal credit growth, higher PV sales and improvements in real non-farm consumer imports.
Overall, it is evident that rural spending remains weak, although the hope of its revival. Is alive, primarily led by upcoming state elections at end-2023 and general elections next year, the report said.
Although urban spending grew at a faster pace last quarter, it is very likely that consumption growth remained weak in 1QFY24.
Against this backdrop, we expect real private consumption growth. At 3.5-4 per cent in 1QFY24, weak but better than 2.5  per cent YoY in 2HFY23, the report said.