News
SC to consider Chandrababu Naidu s plea on Oct 3 after Justice Bhatti recuses from hearing case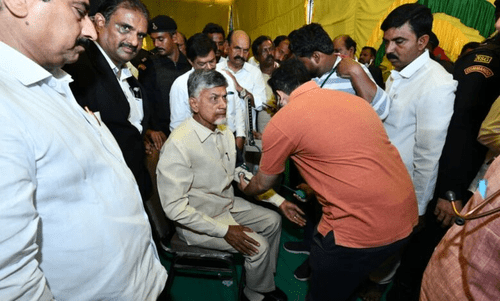 The Supreme Court will now hear, on October 3, the plea filed by Telugu Desam Party supremo and former Andhra Pradesh Chief Minister Chandrababu Naidu against his arrest by the CID in connection with the alleged Skill Development Corporation scam case after Justice S.V. Bhatti on Wednesday recused himself from hearing the matter.
"My brother (Justice Bhatti) has some reservations about hearing the matter," said Justice Sanjiv Khanna, who headed the bench, but without disclosing any specific reason.
The bench did not pass orders giving any fixed date in the matter but granted liberty to mention the plea afresh before CJI D.Y. Chandrachud for urgent listing.
Senior advocate Sidharth Luthra, appearing for the Telugu Desam Party (TDP) chief, went to. The courtroom of the CJI for mentioning the plea seeking urgent hearing by a different Bench. However, a bench headed by the CJI did not pass any directions for urgent hearing by a different bench or grant any interim relief but said that the matter will be taken for hearing on next Tuesday.
Before the CJI, Luthra said that Naidu is being "looped in FIRs after FIRs" only because. Of the upcoming 2024 general polls. He added that the application moved by CID seeking police custody of the TDP chief after expiry of 15 days. From arrest amounts to "mockery of the Criminal Procedure Code".
The CJI clarified that the top court will not pass any orders restraining the trial court from deciding. The application seeking police custody or stay any other pending proceedings before the trial court.
On Sunday, the Vijayawada ACB court extended Naidu's judicial custody till October 5 after. His two-day police custody came to an end on Sunday. On Tuesday, the ACB court adjourned hearing to September 27 on the bail petition. Of Naidu, as well as on a CID petition seeking his further custody.
Naidu has approached the Supreme Court by filing a Special Leave Petition after a single judge bench of Justice S. Reddy of the Andhra Pradesh High Court on September 22 dismissed his petition to quash the FIR registered against him and to set aside his judicial remand.