News
SC to hear plea seeking cancellation of Y.S. Avinash Reddy s bail after three weeks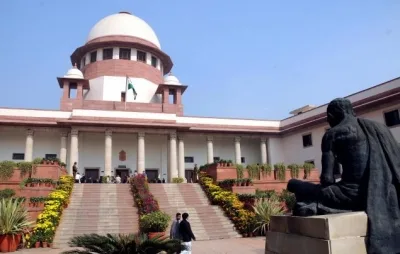 The Supreme Court on Monday deferred hearing on a plea filed against the Telangana High Court's order allowing anticipatory bail to YSRCP MP from Kadapa Y.S. Avinash Reddy in the former Andhra Pradesh Minister Vivekananda Reddy murder case.
A bench of Justices Sanjiv Khanna and S.V.N. Bhatti directed that the plea filed by Suneetha Narreddy, the daughter of the deceased, seeking cancellation of bail be listed after three weeks on a non-miscellaneous day.
Notably, days other than Monday and Friday are classified as non-miscellaneous. Days in the Supreme Court, when regular hearing is undertaken by different benches.
On July 18, the top court had asked the Central Bureau of Investigation (CBI) to file its response. In the matter and ordered that the probe agency will produce copies. Of the original case files in a sealed cover before it.
On July 14, the CBI court in Hyderabad, taking cognisance of the supplementary charge sheet. Filed by the CBI, summoned Avinash Reddy in the case.
The CBI had filed the third charge sheet in the sensational case naming. Avinash Reddy, cousin of Andhra Pradesh Chief Minister Y.S. Jagan Mohan Reddy, as an accused.
In her special leave petition, Suneetha Narreddy had contended that the high court virtually. Accepted the entire case put forth by the accused and disregarded the evidence collected by the CBI.
The plea said that the Kadapa MP from the ruling YSRCP had not cooperated. With the CBI by evading three notices for appearance.
It submitted that the high court allowed the anticipatory bail to the accused contrary. To the law laid down by the apex court.
On May 31, the Telangana High Court granted anticipatory bail to Avinash Reddy with certain conditions in the murder case.
Vivekananda Reddy, brother of former Chief Minister Y.S. Rajasekhara Reddy, and uncle of present Chief Minister Jagan Mohan Reddy, was murdered at his residence in Pulivendula on March 15, 2019, weeks before the elections. The 68-year-old was alone at his house when unidentified persons barged in and killed him.
The CBI took over the investigation into the case in 2020 on the direction of the. Andhra Pradesh High Court while hearing a petition of Vivekananda Reddy's daughter, who raised suspicion about some relatives.
The Supreme Court transferred the case to Hyderabad while observing that doubts raised. By her about getting a fair trial and investigation in Andhra Pradesh were reasonable.
On May 26 this year, the apex court stayed another Telangana High Court order. Enlarging co-accused Yerra Gangi Reddy on conditional bail.